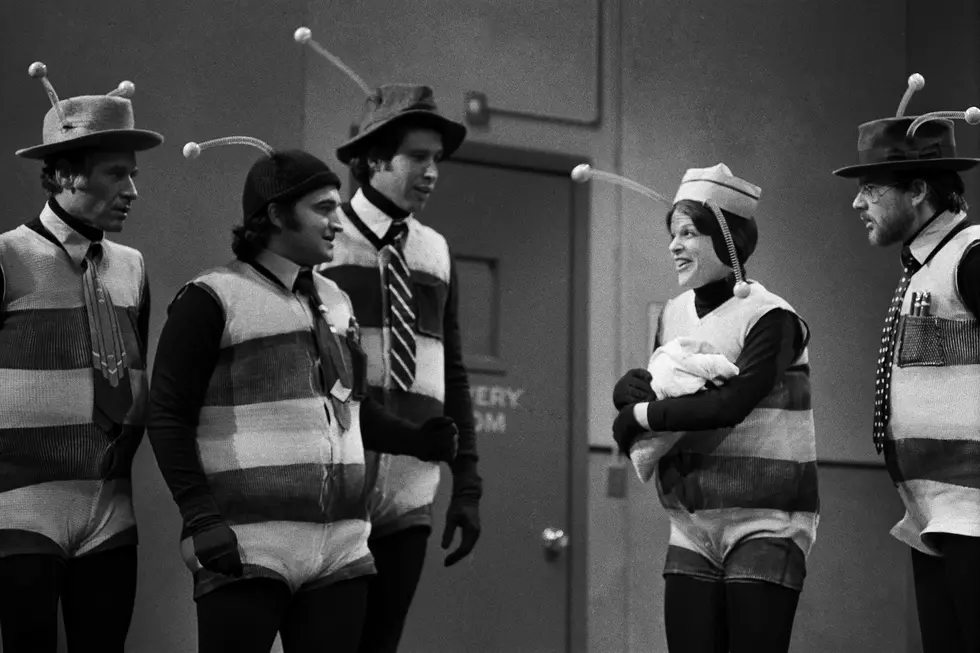 'Saturday Night Live' Debut Show to Be Memorialized in New Film
Herb Ball, NBCU Photo Bank, Getty Images
A new film about the debut episode of Saturday Night Live, based on real-life accounts of the people who made it happen, is in the works at Sony and will be helmed by Ghostbusters: Afterlife director Jason Reitman.
The yet-untitled film will take place on Oct. 11, 1975, the night of Saturday Night Live's fateful — albeit spotty — debut on NBC. Reitman will handle directorial duties and co-write the script with his Ghostbusters: Afterlife partner Gil Kenan. Both writers conducted extensive interviews with the living cast, crew and writers to recreate the behind-the-scenes chaos and excitement leading up to showtime.
Although it went on to become one of the most enduring television shows in history, Saturday Night Live showed only glimpses of its immense potential during its inaugural episode. The Lorne Michaels-created show starred John Belushi, Jane Curtin, Gilda Radner, Dan Aykroyd and Chevy Chase — dubbed the Not Ready for Prime-Time Players — in its flagship season, but the debut episode featured only five proper sketches interspersed between musical performances, guest appearances and a standup routine from George Carlin.
The Hollywood Reporter said the show "got off to a less than auspicious start" with its "lackluster" debut, taking particular aim at its "lack of exciting guests and innovative writing." New York magazine called it "an uneven show, with all of the pitfalls and possibilities of something never tried before," but said it was "rooting for" the show to succeed — which it has, to the tune of 70-plus Emmys and nearly 50 years on the air.
In Reitman, Sony has found a director who knows how to helm a profitable film based on past cultural phenomena. Ghostbusters: Afterlife earned $204 million worldwide on a $75 million budget. Reitman's other directorial credits include Thank You for Smoking, Juno and Up in the Air, with the latter two earning Academy Award nominations for best director.
Rock's 60 Biggest 'Saturday Night Live' Performances
More From WSHK-WSAK 102.1 & 105.3 The Shark