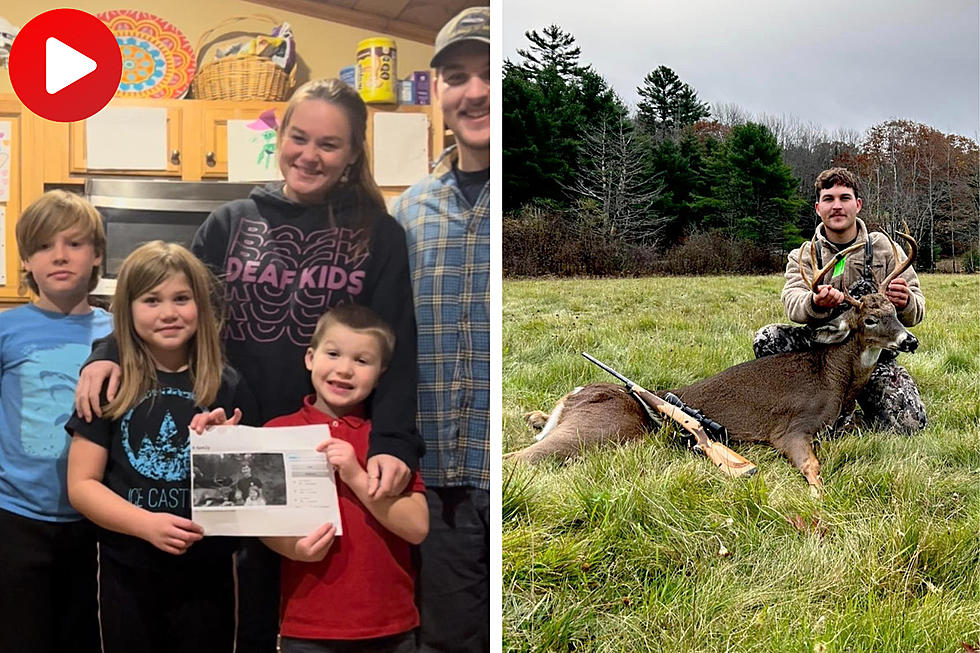 WATCH: Maine Mom Brought to Tears After Hunter Raises Thousands for Family
Cole Zydel via Facebook
This local story, shared to me through my friend Meagan Marcoux, is truly inspiring. Overwhelmed with excitement, she urged me to look at it, and I wholeheartedly agree that it deserves to not only be highlighted, but celebrated and spread even further.
My usual focus is on Mainers who take it upon themselves to engage in acts of kindness, not for accolades or applause, but because they want to help. And this story does exactly that, if not more.
Get ready to reach for the tissues, because Meagan and I were both moved to tears after delving into this beautiful act of kindness.
Cole Zydel, a local hunter and senior at the Maine Maritime Academy, was looking for permission from residents of specific properties in Maine to see if he could hunt on their land. After many rejections, one single mom graciously granted him access to her place, which became a weekly spot for Cole to hunt.
As their acquaintance grew, he developed a rapport with the family, and even started to bring treats for her four children.
As he spent more time with them, he discovered their financial challenges. Cole was moved by empathy and decided to take it upon himself to make a change in their situation, or at the very least, to try.
So, he created a GoFundMe with a description (in part) saying,
"Two years ago I knocked on a countless amount of doors in search of getting permission to hunt on private property. After being told get off my property and constant NOs, finally someone was nice enough to let me hunt. The person who owns the property is a single mother with 4 children. I just want to make sure that her and her family land on their feet okay. It makes me upset to see her (the landowner) upset and struggling. Times are tough and the holidays are coming up, I would love to do whatever I can to help a kind Maine family."
Furthermore, Cole noticed she had started selling furniture and other household items online, and found out she was having some financial struggles. As he states, he is a college student, so he cannot personally provide the help for them. But he does bring them donuts to brighten their days.
Cole is determined to help this hardworking Maine family land on their feet, and is asking for your help.
So far, Cole has successfully raised $12,610. Considering the expenses for a family of five, especially a single Mama, we all understand the financial challenges.
Cole recently presented the family a generous check totaling thousands of dollars from the GoFundME.
As he handed it to this beautiful single mother of four, you could sense the profound shock and love that enveloped her upon realizing what it was.
This story shows the essence of humanity: individuals extending kindness to others. In particular, Mainers rallying for fellow Mainers.
Cole has no desire for recognition. His sole intention is to share that the GoFundMe link remains active.
Any contribution you can make will go a long way in helping this cherished family he holds so dear.
How Many of These 25 Stores at the Maine Mall in 1996 Do You Remember?
Here are 25 stores that were still open at the Maine Mall in 1996.
Gallery Credit: Jeff Parsons
25 Ways You Can Spot a Tourist in Maine
Do you think you can spot a tourist in Maine? Here are 25 ways to know for sure.
More From WSHK-WSAK 102.1 & 105.3 The Shark