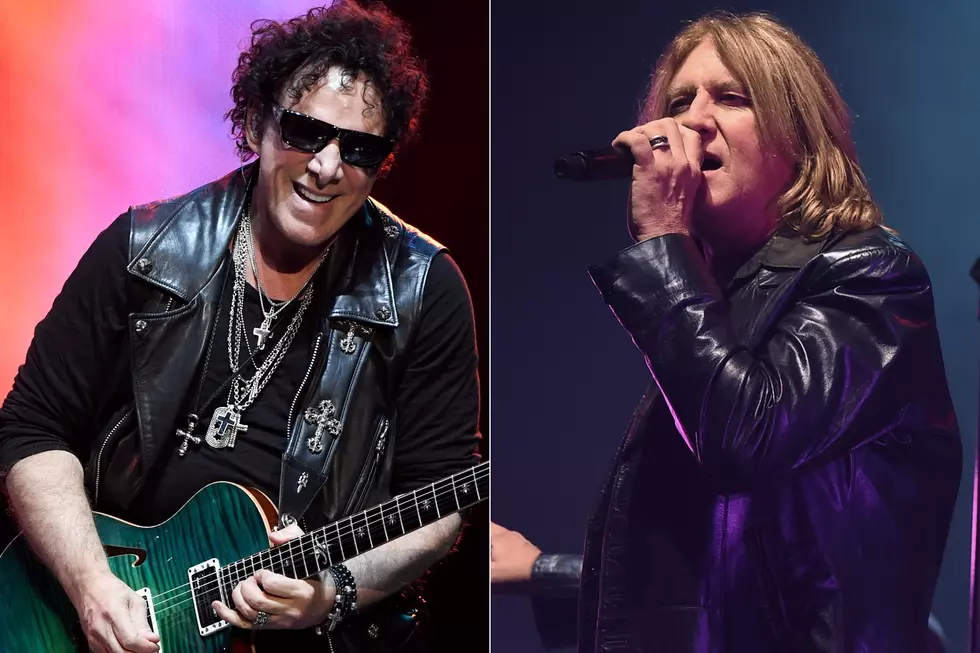 Journey and Def Leppard Reportedly Touring Together in 2018
Ethan Miller / Kevin Winter, Getty Images
The year has only just begun, but 2018's concert calendar is already filling up with a healthy helping of package tours uniting some of classic rock's biggest acts.
Details of the Journey/Def Leppard tour haven't been revealed yet, but confirmation seems to have been offered by guitarist Neal Schon, who tucked it away at the end of the caption on an Instagram post promoting his guest appearance at the G3 show in Oakland on Jan. 14. Noting that Def Leppard guitarist Phil Collen is part of the lineup for this edition of the Joe Satriani-led tour, Schon added, "Journey and Def Leppard comin' soon!"
The bands' plans were also mentioned in a recent profile piece on Journey drummer Steve Smith — and again, while specific details remain under wraps, the feature described Journey's next round of dates as "a six-month tour" alongside Def Leppard, adding that plans call for the shows to begin in May. This tour will serve as the latest in a series of co-headlining packages for Journey; in recent years, they've shared stages with a long list of fellow rock vets, including the Doobie Brothers, Santana, Asia, and the Steve Miller Band.
More From WSHK-WSAK 102.1 & 105.3 The Shark