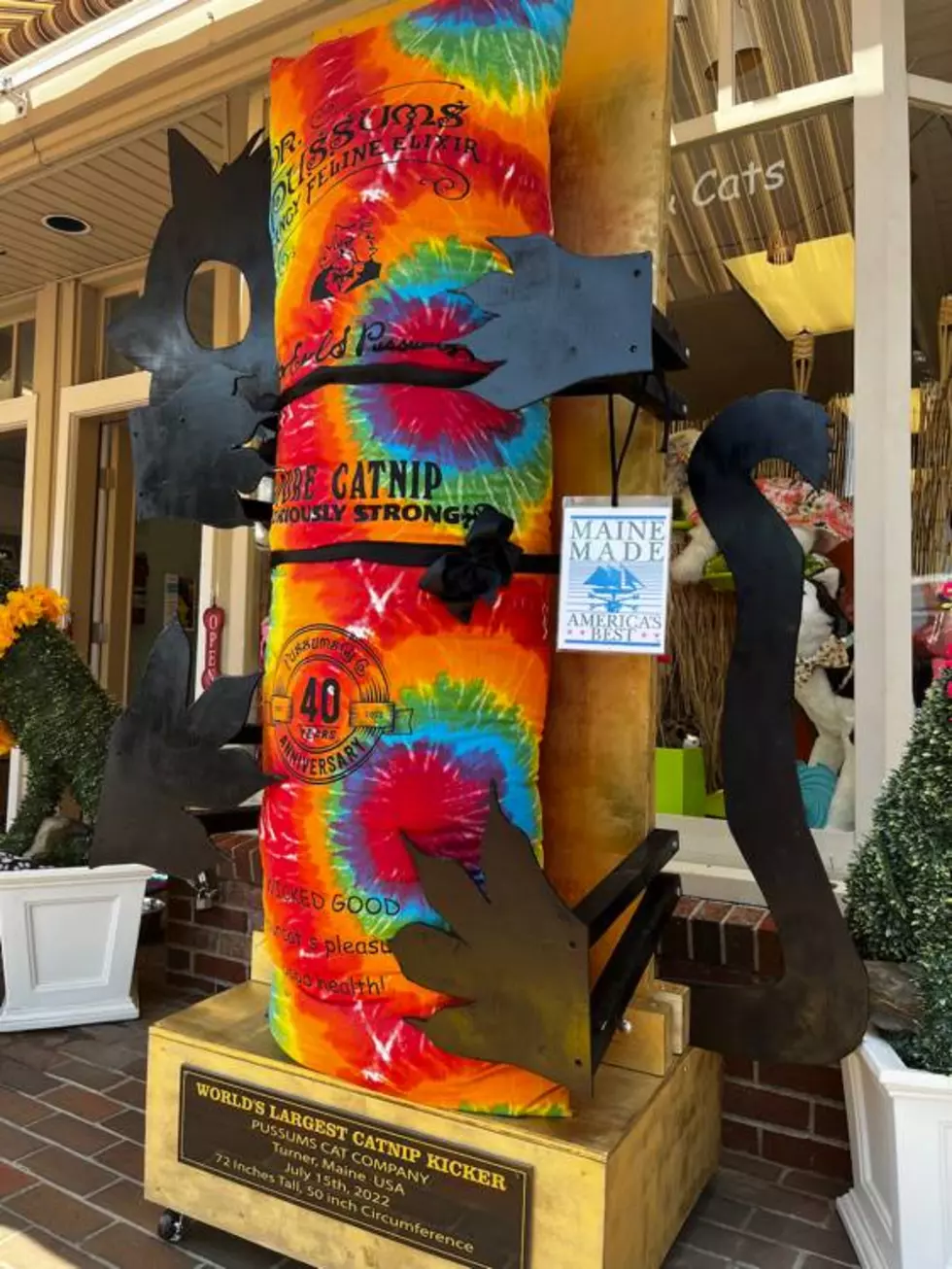 Maine Cat Toy Company Celebrates 40th Anniversary With World's Largest Catnip Toy
credit/courtesy The Pussums Cat Company
Your cat will go nuts!
Pussums Cat Company in Turner Maine has created the world's largest catnip kicker toy! This sucker is 6 feet tall with a 50-inch girth stuffed with 35 pounds of Dr. Pussums Fancy Feline Elixir Pure Catnip inside.
How can you see this fantastic catnip toy? Catch their 'meowvelous' with stops all over New England this summer. If you have cats, you know what a catnip kicker is. If you don't have cats, it's a small pillow-like toy perfect for kitties to kick. They range from two inches up to eleven inches. That makes the special anniversary celebratory kicker 550 percent larger, the biggest one ever produced by the brand. It has already been cat-tested and feline-approved by the in-house foster cats that call The Pussums Cat Company retail location in Turner, Maine home. Also all the furry friends at PALS No-Kill Cat Shelter in Winthrop, Maine!
The Pussums Cat Company will bring the oversized catnip kicker to events around Maine. Grab a picture with the giant kicker and bring home free Dr. Pussums samples, while supplies last.
Friday, July 29th at Loyal Biscuit 109 Main St Waterville 1-4 pm
Saturday, July 30th at Loyal Biscuit 180 Front St Bath 1-4 pm
Friday, August 19th at Loyal Biscuit 1 Belmont Ave Belfast 1-4 pm
Last stop Saturday, August 20 at Loyal Biscuit 408 Main St Rockland 11-2 pm!
The Pussums Cat Company, 293 Auburn Road in Turner, is open Monday through Friday, from 8 a.m. to 3 p.m. It's a small family-owned and women-owned Maine business that does superior quality catnip and catnip toys, cat teasers and toys, and cat lover gifts. They've been at this since 1982. Get 10% off items on their website (subscriptions and gift cards excluded) using code 207PURR. Treat your kitty to some fun!
These Maine Cats are Hiding in The Weirdest Places
As a cat owner you may be used to the special spot your cat has picked to exist in. Mainers show off their cats funny spots to rest their paws.
More From WSHK-WSAK 102.1 & 105.3 The Shark