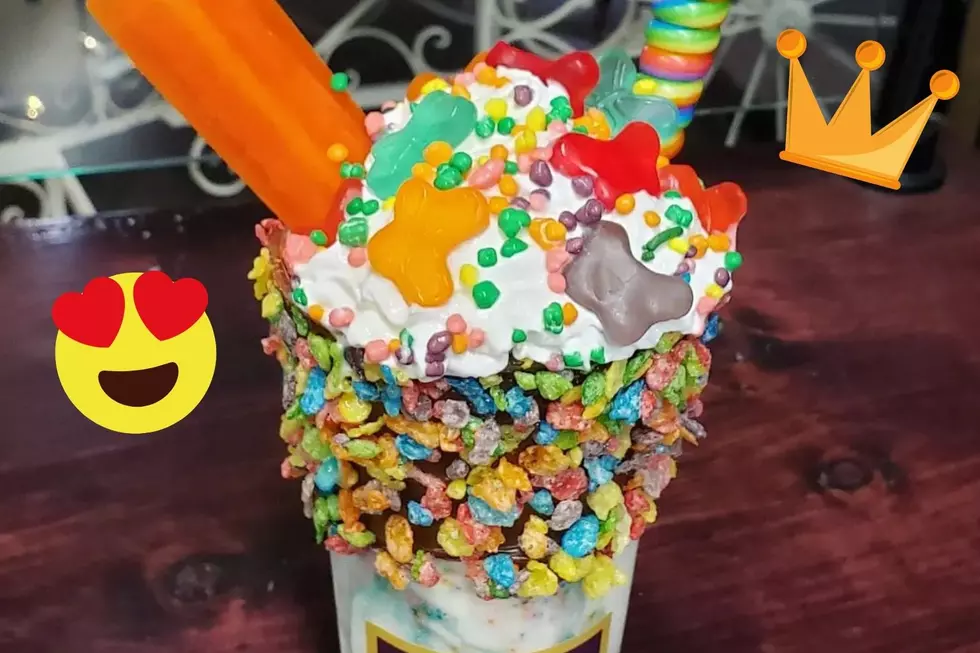 The Colorful New Butterfly King Shake at Lickee's & Chewy's in NH Looks So Yummy
Lickee's & Chewy's Candies & Creamery via Facebook, Canva
Many may not know about the hidden gem in Dover, New Hampshire, that is Lickee's & Chewy's. Those who do have fallen in love, and we now want to knight you with the knowledge of the scrumptious candies, ice cream, shakes, and other sweet treats that exist right inside the Dover Mills.
The story of how this sugar kingdom came to be is a unique one. According to the Lickee's & Chewy's website, the shop's owner was serving overseas in the military when a comrade referred to candy from back home as "lickie's and chewies". It turns out that these were older terms used to refer to the sweets and goodies that soldiers snacked on while training.
That put the idea in the owner's head to someday open his own candy store called 'Lickee's & Chewy's', and that's precisely what he did. 'Lickee' and 'Chewy' would even become names of two characters: a knight and dragon from 'Caramelot'. Isn't that clever?
Lickee and Chewy's kingdom can now be found on Washington Street...
...and just look at all of the treats inside.
Now, this place has come up with some absolutely lovely milkshake creations, called 'King Shakes'. Amongst this large gallery of gorgeous concoctions, there's this bit of chocolatey goodness...
...and this lovely autumn-esque masterpiece.
Don't these look yummy? These people take the phrase "go big or go home" seriously.
Lickee's & Chewy's' newest concoction, shared recently to Facebook, just might top the list when it comes to color and splendor. Without further ado, here's the Rainbow Butterfly King Shake.
Just feast your eyes on that delicious rainbow swirl shake and all its candy components. This will be one flavorful sugar rush that's 100% worth it.
Not only is the shake itself spectacular, but even the straw is in a lollipop. You can't get more extra than that. The Facebook post explains that those at Lickee's & Chewy's had to devote some time to find and perfect the rainbow swirl shake, and they seem to think they've finally done it. We have a feeling they're right.
Have you had the chance to try the Rainbow Butterfly King Shake? What did you think? What other shakes at Lickee's & Chewy's are your favorite?
Speaking of sweets, take a look at 25 of the best bakeries in New Hampshire.
25 of the Best Bakeries in New Hampshire
Make a Splash at These 7 New Hampshire and Maine Water Parks
More From WSHK-WSAK 102.1 & 105.3 The Shark