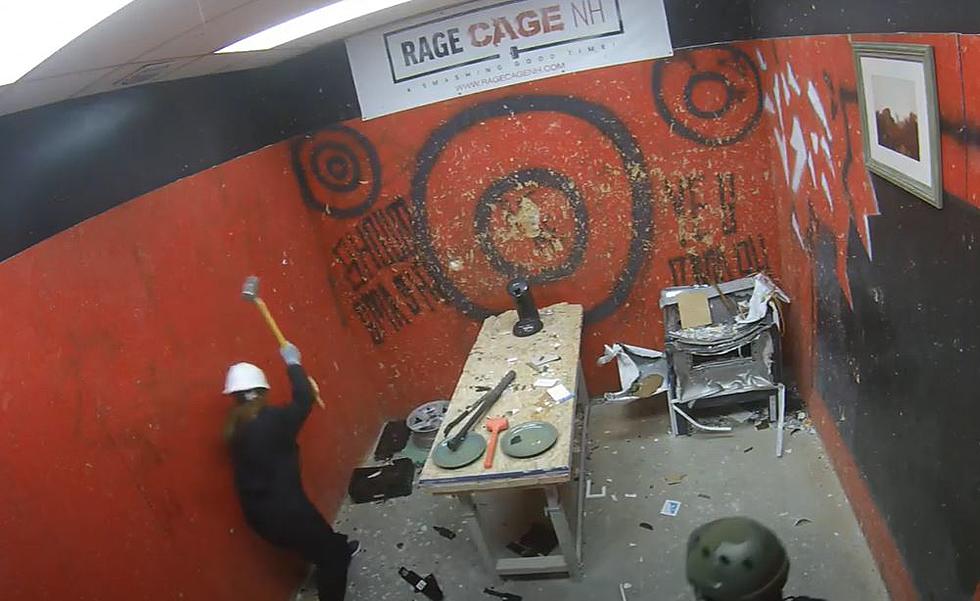 Will Smashing Stuff Really Make You Feel Better? This New Hampshire TV Celebrity Says YES
YouTube/RageCageNH
I'm sorry, but this looks like a BLAST!  (sorry, not sorry....)
New Hampshire's own lovely Erin Fehlau of WMUR-TV posted on her Facebook page a video of her smashing things at Nashua's RAGE CAGE NH.  Check this out:
How many times have you wanted to smash something with a sledgehammer?  Remember that game, "never have I ever?"  Well, Never Have I Ever... smashed anything like this before, but I sure do want to after seeing Erin have all the fun!
It's Next To Chicken & Chips
Any Nashua Native knows where Chicken & Chips is on West Hollis Street.  This place is right next door, closer to Main Street on the same side of the street.  You know EXACTLY where I am talking about now don't you?  I think it was a dive bar before?
Go in And Smash To Your Heart's Content
RAGE CAGE NH is a place where you can literally go and smash things to your heart's content.  Dishes, computers, appliances, anything that they have, smash away!  They take donations too!  Why bring it to the dump when you can donate it to RAGE and make someone happy!  Ironic, no?
It's Got a Cool Paint Room Too!
For kids on Thursdays the Rage turns into Paint parties!  WOOHOO!  The vibe changes from destruction to creativity!  Everyone gets a canvas and safety goggles.  You will get messy, so wear clothes that you don't want to keep after your experience.
It's Not Open Every Day
For now, their hours are Thursday and Friday from 12noon to 9pm. Friday, Saturday and Sunday from 10am to 9pm.
You can check out this video to see what it's all about here:
SWEET: Here are the most popular Halloween candies
LOOK: Famous Historic Homes in Every State
More From WSHK-WSAK 102.1 & 105.3 The Shark