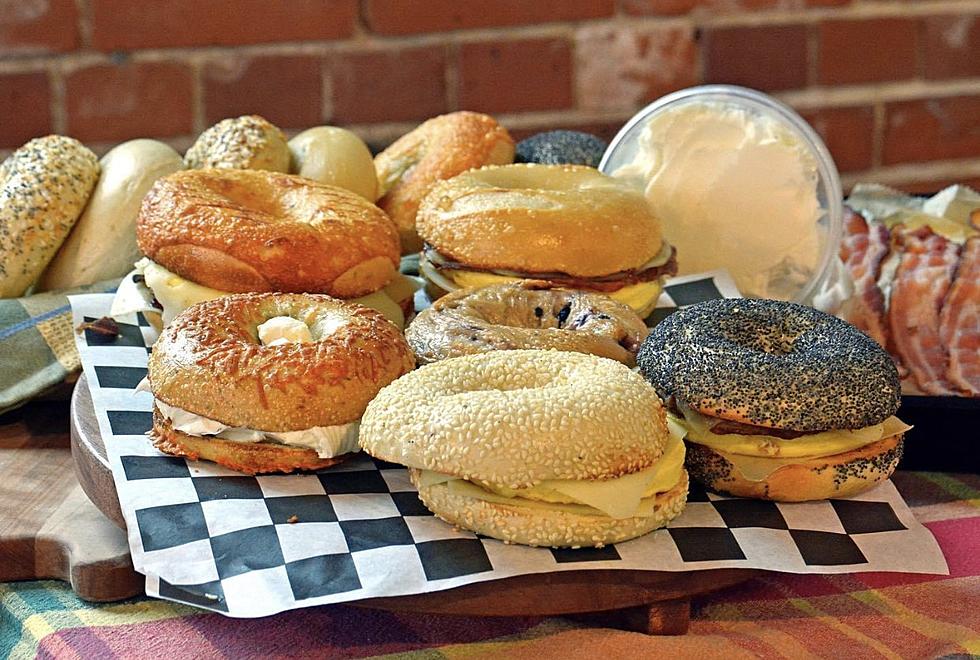 You Can Get Your Fresh Bagels Again When Loxsmith Bagel Co. in Dover Reopens Monday
Loxsmith Bagel Co. via Facebook
Loxsmith Bagel Co. went into hibernation last Christmas, but if their Blueberry Pancake bagels were on your wish list, your dreams have finally come true.
After a three-month hiatus, the popular coffee shops will reopen on Monday, March 22.
Owner Holly Patterson said the decision to pause operations at her Dover, New Hampshire and Saco, Maine, storefronts was a difficult one. During the interval, Patterson continued production via the wholesale route, but her heart lies with the cafes.
Holly relocated to the Seacoast from upstate New York and was unable to find the bagels that she and her kids loved back home. Their longing eventually resulted in the catchy business name (coined by her daughter) and iconic logo (designed by her son).
When it comes to bagels, Patterson said, "We don't just bake them, we make them."
Loxsmith Bagel Co. takes pride in offering a fresh product that is made from scratch daily.
"We only serve clean label," which she explained is a term describing food made without chemicals.
Loxsmith Bagel Co. offers a wide variety of unique, inventive flavors.
The owner recommends their most popular flavor Wild & Crazy Cheddar, which is an Everything bagel baked with Cabot's white cheddar. For those with a sweet tooth, she recommends the Blueberry Pancake and Cinnamon Sugar Crunch.
In addition to bagels and fresh-brewed coffee, guests will discover hearty breakfast and lunch sandwiches, oatmeal, and a variety of spreads.
Customers can take advantage of Loxsmith's new mobile app, which allows users to pay in advance.
"Anyone with the app can avoid waiting in line. Pay beforehand, select an arrival time, and we'll have it ready when they get here!" Patterson advised.
The owner is enthusiastic and hopeful for the future.
"We love our clientele and can't wait to open our doors again. Loxsmith is nothing like those drive-thru operations," Patterson said. "I value the people who get out of their cars and come inside to see us!"
Loxsmith Bagel Co. is located at 11 A Main St. in Dover and 120 Main St. in Saco. Both locations reopen on Monday, 7 days a week, from 7 am to 2 pm.
How Many in America: From Guns to Ghost Towns
Can you take a guess as to how many public schools are in the U.S.? Do you have any clue as to how many billionaires might be residing there? Read on to find out—and learn a thing or two about each of these selection's cultural significance and legacy along the way.
More From WSHK-WSAK 102.1 & 105.3 The Shark