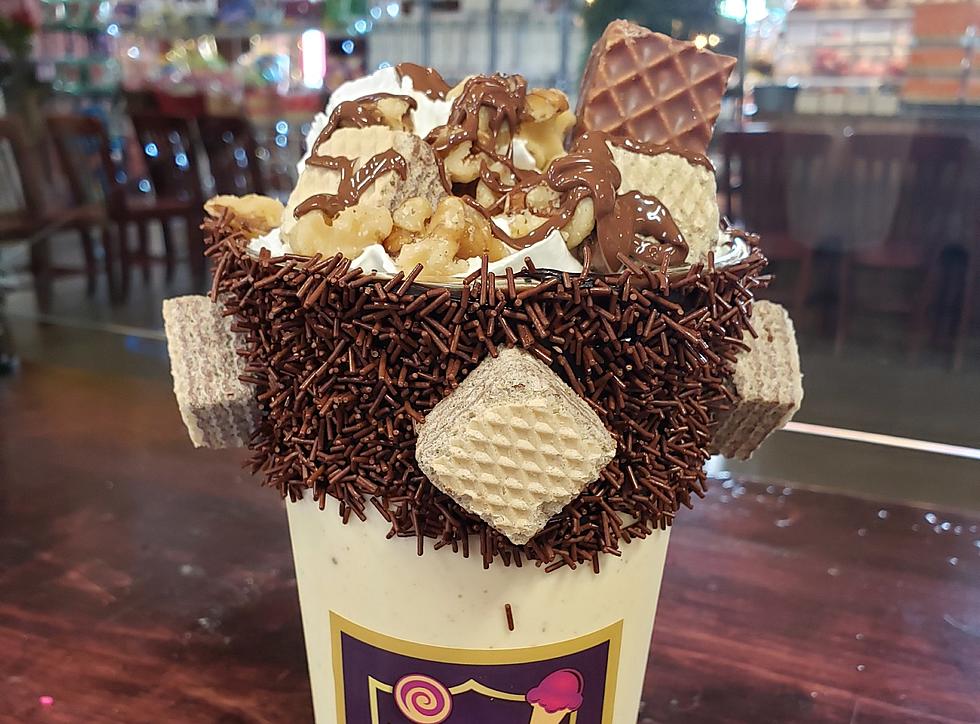 Are the World's Most Glorious Milkshakes Just a Quick Drive to New Hampshire Away?
Lickeesnchewysstore.com
These Kingshakes are not for the faint hearted at Lickee's and Chewy's in Dover, New Hampshire.
I am in love with Lickee's & Chewy's Candies & Creamery. It's a gigantic, award winning, medieval themed candy store, chocolate factory & ice cream/dessert restaurant! They have around five thousand candies and chocolates from around the world tucked inside a 200 year old mill in downtown Dover, New Hampshire. Our very own Willy Wonka!
It's the sweetest story how it got it's name. Lickee is a knight and Chewy is his dragon and they are from the Kingdom of Caramelot. That kingdom is where the giant Kingshake lives. It's an extra-large, themed ice cream shake 'loaded with special toppings built for a King or Queen.'  They have 28 flavors of locally made ice cream and sorbet, custom shakes, sundaes, chocolate covered ice cream sandwiches, soft serve with handmade chocolate dips, shaved ice, French macarons, cheesecakes and more.
They are also have one of the biggest candy selections in New England with over 200 bulk candies, with lots of classic candies and hundreds of PEZ!!  I can't wait to try one of their famous caramel apples and of course a Kingshake!
These Monster Kingshakes Are in Dover, NH at Lickee's and Chewy's
10 Classic Candies With Ties to New England
These 10 NH Restaurants Deserve Your Attention
More From WSHK-WSAK 102.1 & 105.3 The Shark