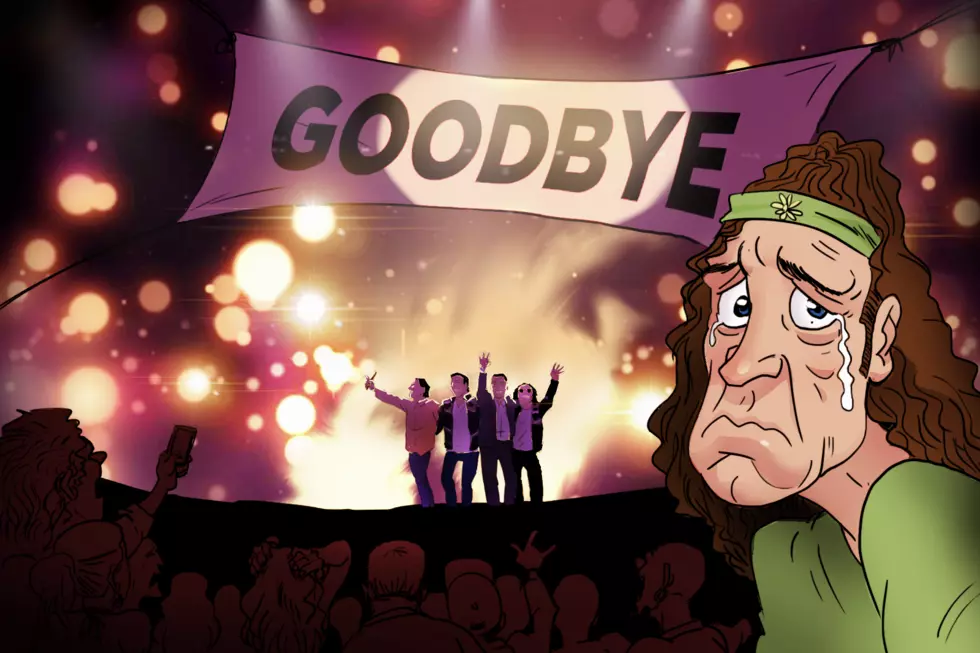 All My Classic-Rock Heroes Are Retiring. What Should I Do?
Adrian Borromeo, Ultimate Classic Rock
Saying goodbye can be painfully difficult. That's becoming a way of life for classic rock fans, however, thanks to the wave of retirements and deaths that have hit the artist community over the last few years.
It's all enough to leave a music lover wondering what they'll have to look forward to after the last veteran act rides off into the rock 'n' roll sunset. The subject has been back on our minds lately, in the wake of what feels like a rapid-fire series of announcements from rockers who are either planning their farewell tours or have already been forced to give up performing.
So, where does that leave the fans? Aside from the obvious answer — that the music lasts forever, and we can keep enjoying these artists' work for the rest of our lives — there are several ways of looking at what can sometimes feel like a classic rock extinction-level event. We've put together a handy checklist for you to run down whenever you've got the blues over so many acts ending their careers.
See the tours. This goes for the farewell dates, obviously: If you've got enough discretionary income to pay the premium that goes along with picking up tickets to one of your favorite artist's final shows, it's most likely worth the investment. And given how long these goodbyes tend to last, you probably have a little time. Elton John's farewell tour is set to go on for roughly 300 stops over a three-year span, for example, so if one date doesn't work out for whatever reason, there's a fairly decent chance you might be able to swing it a little later.
Still, even if things aren't as immediately dire as they might seem once an artist announces their intention to say goodbye, it's still a good idea to try not to take them for granted while they're here. If a musician whose work you appreciate is in town, see them perform when you have the opportunity. As too many sudden deaths have taught us recently, you really never know how much longer someone's going to be around, and not everyone has the luxury of planning their own farewell, or gets to stick around long enough to enjoy retirement.
Plenty of your favorites are still rocking. It can certainly feel like we're losing a ton of top artists, and there's no denying we've had to say goodbye to a number of brilliant talents long before we thought we would. Yet if you look over our list of the top 100 classic rock artists of all time, roughly 60 percent of them are still active in some form. And yes, sometimes "active" is almost a technicality: It's hard not to concede some degree of disappointment with a band that's still touring with a small number (or none) of its founding members — but the bottom line is that retirement is still a ways off for a number of our greatest acts. In fact...
Some bands may never stop. For every band that breaks up after a few members aren't feeling it anymore, there's another that soldiers on no matter who exits the lineup. That rotating approach, although it's definitely off-putting to a number of longtime fans, has opened up the possibility that these groups could potentially just keep going long after every founding member has retired or even died. You can still go see the songs of Mozart or Beethoven played live, after all. Why not "official" versions of the biggest and best-loved rock bands?
Foreigner and Chicago seem like they could be edging in that direction, as their remaining original members age out of the touring grind. Kiss has long been rumored to be considering a franchise approach to touring. The Eagles have continued to tour following the death of co-founder Glenn Frey. It's a rubicon we aren't close to crossing, but it could happen — and while the end result won't be the real thing, it may very well still be close enough to fill theaters consistently for decades to come.
Support the new generation. For all the constant chatter about rock being supposedly dead, there's no shortage of younger acts who are continuing to carry the genre forward into the 21st century — and releasing some pretty terrific music of their own along the way. Skynyrd fans, for example, can hear echoes of the band's influence in a host of newer artists that run the gamut from bands like Blackberry Smoke to solo acts such as Chris Stapleton. Those who love Queen can seek out impeccably produced pop by the likes of Mika. Led Zeppelin fans will hear occasionally uncanny similarities in the work of Greta Van Fleet. You get the idea — the list goes on and on. Rock doesn't dominate the charts or the cultural conversation the way it once did, but if you take the time to look, you may be pleasantly surprised by what you hear coming out of the next generation.
Tribute bands are always in town. Admittedly, if presented with the choice between seeing the real thing and a tribute band, most fans will opt for the former. But it isn't always a choice, and when your favorite groups are off the road, prohibitively expensive, or no longer with us for whatever reason, catching a live homage can be the next best thing. Some tribute bands have been plying their trade longer than the groups that inspired them even managed to stick together, and they're pretty terrific in their own right — as evidenced by the occasions when tribute band members have been hired to join the lineups of the groups they made a living imitating in the first place. Ripper Owens in Judas Priest, Arnel Pineda in Journey — they started out as soundalike acts. The next tribute band musician to rise from the ranks could be playing at a bar near you this weekend. Who knows?
Looking back. Before they became superstars, every classic rock artist was inspired by the music of the past — and just as our favorite rockers' records will live on, so have the albums released by the acts who preceded them. In the streaming era, delving into the catalogs that inspired the music you love is easier and more affordable than ever, so why not take the time to do some artistic genealogy? Obviously, not all of it has aged well for modern audiences, but as often as not, digging into those roots can turn up the next favorite songs, albums, and artists you never knew you were waiting to find.
Live albums and concert films. It isn't at all uncommon for artists to issue live albums as contract-fulfilling stopgap releases, but there really are some gems — and as labels continue to lean on reissues from heritage artists, the number of quality concert recordings is only growing. Advances in audiovisual technology have also left those performances looking and sounding better than ever. With the right home theater setup, hitting "play" on an archival concert can almost be like being there. Whether it's through subscription services like Qello or through establishing a physical library of CDs and DVDs/Blu-rays, your house can be close to the best venue — and these farewell tours will only add to the list of potential additions to your home catalog.
Hope for a change of heart. Okay, so maybe this isn't the best policy. But we've seen enough "final concerts" to know that performing often lingers in an artist's blood long after they've insisted they're giving it up and going home. The Who, Scorpions, Kiss, Judas Priest — they all seemed to believe they were saying goodbye at the time, but their farewell tours ended up being not so final after all. Count on a reversal and you might end up being disappointed ... but the odds aren't exactly bad.
Holograms! We've saved the least for last. Hologram tours are an area that's obviously still in its relative infancy, and the whole idea of putting a virtual performer on stage to stand in for a deceased star is something that makes a lot of people uneasy to say the least. Perhaps just as importantly, the technology that drives these performances, while admittedly incredible, hasn't yet reached the point where it can deliver a truly lifelike experience. We're still in the middle of an uncanny valley with these holograms, and there's no telling when that will change. Still, it isn't hard to imagine a time when a bunch of late rockers hit the road through the magic of the hologram tour — and audiences are perfectly willing to accept the difference.
More From WSHK-WSAK 102.1 & 105.3 The Shark