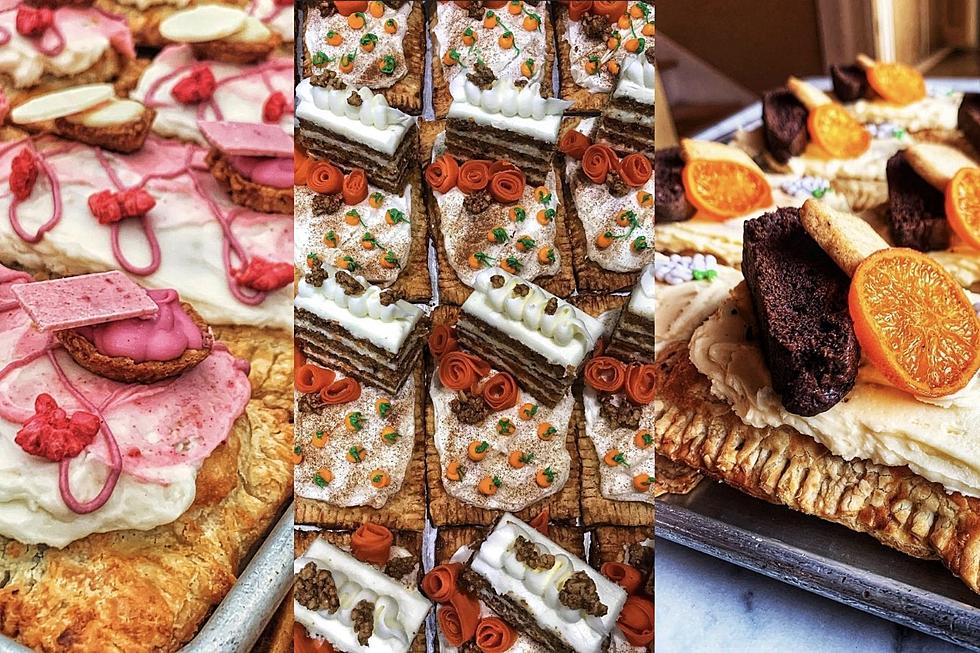 Dover Business Proves Pop-Tarts Are Not Just For Kids
Courtesy: Earth's Harvest Kitchen
Remember the days when you would wake up early on Saturdays, march into the kitchen, drop two frosted pastries into the toaster and settle in for a morning of cartoons? Granted, kids nowadays have largely traded in the television screen for the iPad screen, and cartoons are available 24/7. It's possible some have never even heard of Pop-Tarts.
Earth's Harvest Kitchen and Juicery in Dover has stepped up to answer the call of Saturday morning nostalgia with a sophisticated display of Pop-Tarts that will take your breath away.
Baker Amy Kenyon is the genius behind these gourmet concoctions. When asked about her inspirations, Kenyon pointed to her imagination.
"Each pop tart tells a story," she told Seacoast Current. "My imagination is like a rabbit hole, with a variety of influences: life, reading, art, Instagram. I see one little thing and off my brain goes."
Owner and chef George Bezanson added: "I learned a lot about breads and pastries over the years, but Amy has taken it to the next level. She is an experienced baker and I pretty much let her do whatever she wants."
Enter your number to get our free mobile app
Earth's Harvest Pop-Tarts are as complex as they are beautiful. Each hand pie is a singular work of art and unfolds layer after layer with every bite. First, there is that flaky pastry that is filled with unexpected house-made jams and curds.
Next comes the frostings, which are equally as tasty and creative. But that's not all! Each individual pop tart includes a special "topper," anything from a tiny slice of cake to ornate shortbread cookies or miniature French macarons.
Exotic flavors include carrot marmalade with carrot cake, blood orange curd with cotton candy, white chocolate eggnog cheesecake with cranberry jam. And that's just to name a few.
Bezanson emphasized the importance of giving Kenyon full credit for the popularity of their pop tart craze.
"This is all her," he said. "These things take days to create. Amy was here at 12:30 a.m. this morning, and she's still here right now."
In another wink to the good old days, Earth's Harvest only offers these luscious tarts on Saturday mornings. Bezanson suggests ordering online, before the mad dash.
"There's only a small window of opportunity," she said. "They're extremely sought after; in fact, getting them has almost become a game or an adventure for our regular customers."
It only seems right that on one of these mornings, we don our favorite flannel jammies, set the alarm clock and make the trip to Earth's Harvest Kitchen and Juicery. Pour yourself a big glass of ice-cold milk, too. Scooby Doo is optional.
Earth's Harvest Kitchen and Juicery is located at 835 Central Avenue in Dover. Visit their website here for more information.
These 10 NH Restaurants Deserve Your Attention
More From WSHK-WSAK 102.1 & 105.3 The Shark