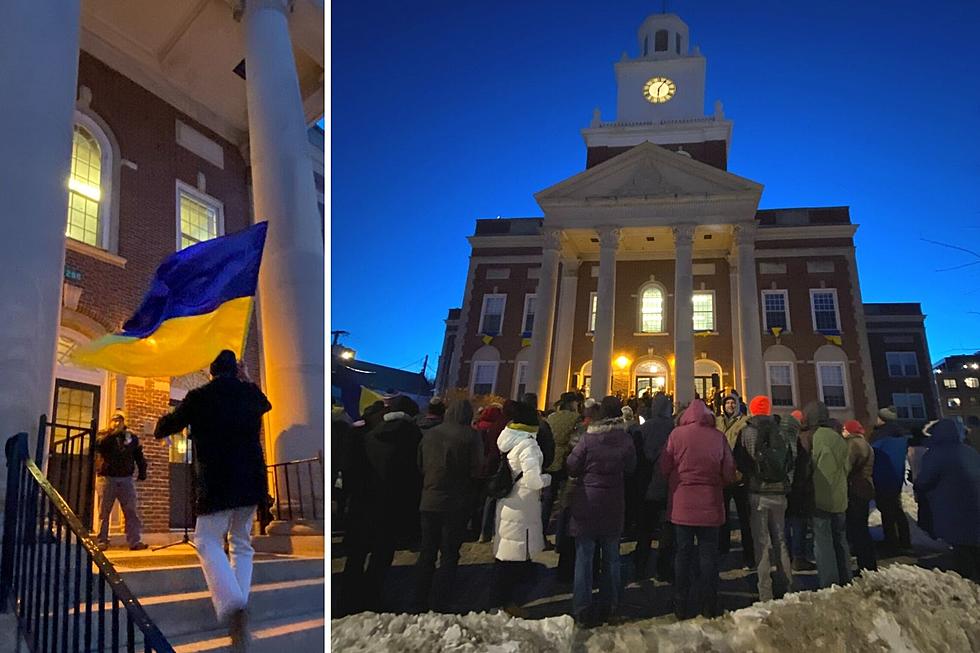 Dover, NH Shows Support for Ukraine With Vigil
Candlelight vigil in support of Ukraine in Dover 3/4/22 (Jolana Miller, Townsquare Media)
With Ukrainian flags hanging from the windows, Dover City Hall was lit up by candles by dozens to show their support for Ukraine during the ongoing invasion by Russia.
Dover Mayor Robert Carrier was pleased with the vigil considering it was put together quickly.
"It was a very nice affair, we had quite a few people, we had some guest speakers, it was heart-wrenching," Dover Mayor Robert Carrier told Seacoast Current. "We had a young Ukranian teenager speak who told it like it is."
"Dover's candlelight Ukrainian vigil was very well done. Proud to be a part of such a caring community," Megan Dionne wrote on her Facebook page.
The teen that spoke was a 16-year-old exchange student who happens to be staying with a member of the (city) administration.
"She spoke about her family, she spoke about the dynamics of what is happening. It was heart-wrenching. There were tears from everybody's eyes. It was really a tough one to listen to that," Carrier said.
Support for Ukranian refugees
Rep. Chris Pappas, D-NH 1st District told the crowd that the next step in the United States support for Ukraine is to help the million people who have fled the country.
An offer to house Ukrainians was made by Democratic New Jersey Gov. Phil Murphy in a letter to President Joe Biden.
"We stand ready to provide safe harbor and support to Ukrainian refugees. Today, I sent a letter to President Biden making it clear that we welcome these brave individuals to the Garden State," Murphy wrote.
The Joint Base Dix-McGuire-Lakehurst in New Jersey housed nearly 10,000 refugees from Afghanistan in 2020.
Support from Washington
Carrier read letters from Sens. Jeanne Shaheen and Maggie Hassan, who could not attend in person. Both expressed their anger at the invasion and appreciation of support for Ukraine.
Shaheen said she met with Ukraine President Volodymyr Zelenskyy in January and admired the bravery and conviction of the Ukranian people in defending their homes.
"It's inspiring to see these demonstrations happening not only in world capitals, but also in smaller communities like Dover. We must continue to show Ukrainians that the free world is with them, and we must continue to exhaust all avenues to provide the support they need to defend themselves," Shaheen wrote.
Hassan called the invasion a threat to peace, freedom, and security in every corner of the world.
"In face of Russian aggression, we have seen the bravery of Ukrainian citizens on full display as they have fought - and continue to fight - against the Russian army," Hassan wrote.
Hassan also said that she joined with Shaheen as well as Maine Sen. Angus King and Massachusetts Sen. Ed Markey in calling upon the Biden Administration to grant Temporary Protected Status to Ukranians in the United States.
"This enables the administration to allow Ukrainian nationals who are already in the United States, whether for work or study, to stay here so that they are not forced to return to Ukraine amid the ongoing conflict," Hassan wrote.
Somersworth Shows Its Support
Residents of Somersworth came together for a vigil in support of Ukraine earlier in the week at City Place.
"Light will always prevail over darkness! "Democracy will always prevail over tyranny," Hilliard wrote on his Facebook page.
Contact reporter Dan Alexander at Dan.Alexander@townsquaremedia.com or via Twitter @DanAlexanderNH
25 Historical Figures With Interesting Ties to New Hampshire
More From WSHK-WSAK 102.1 & 105.3 The Shark