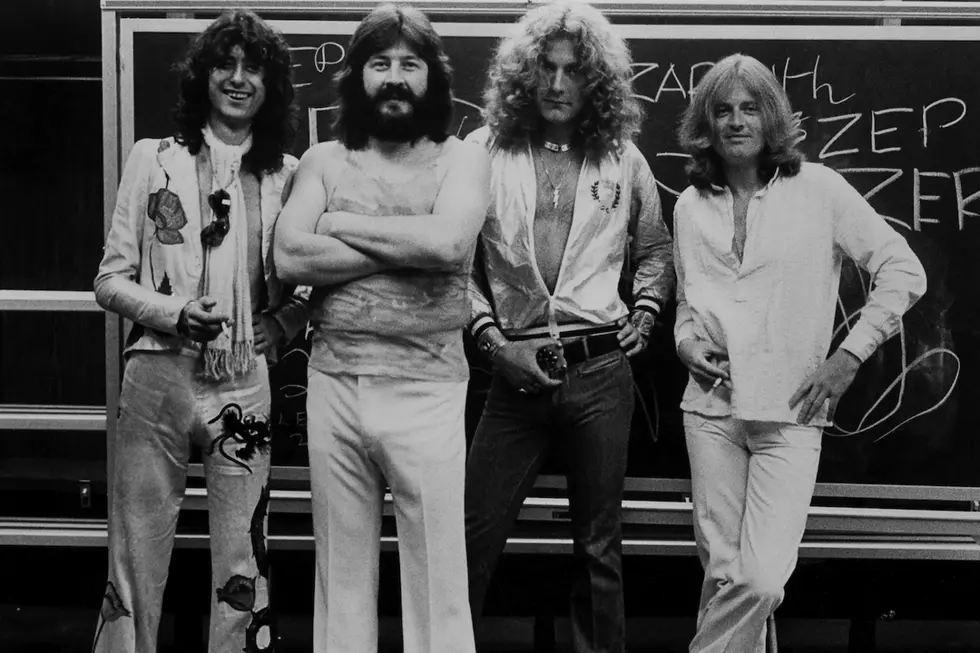 When Fate Forced Led Zeppelin to Abandon '1980s: Part One' Tour
Atlantic Records
After spending years off the road, Led Zeppelin made a triumphant return to the touring circuit with their 1980 European tour. Plans for an American leg were announced on Sept. 11 of that year — but a tragedy in the band's ranks would prevent those dates from ever materializing.
Called "The 1980s: Part One," Zeppelin's return to North American stages was supposed to begin Oct. 17 in Montreal and continue through mid-November, with stops at a number of arenas throughout the East and Midwest. As writer Mick Wall detailed in his book When Giants Walked the Earth: A Biography of Led Zeppelin, the dates were assembled after a long period of careful nudging from manager Peter Grant, who could only get the band back on the road after convincing singer Robert Plant.
Plant, as most fans were aware, had made music much less of a priority since losing his son Karac to a sudden illness during Zeppelin's 1977 tour. Making his way back to the spotlight was a gradual and painful process; as he later admitted, he seriously considered retiring from recording altogether, and was only able to get his head around performing again through his friendship with drummer John Bonham and the patient encouragement of guitarist Jimmy Page.
"I lost my boy," he explained simply in an interview with Rolling Stone. "I didn't want to be in Led Zeppelin. I wanted to be with my family."
Back in gear after the release of 1979's In Through the Out Door, the group reconvened onstage at Knebworth that year, striking the spark that Grant carefully fanned into a flame the following year. But while Plant was willing to return to the road, he had a list of conditions — among them an itinerary that included regularly scheduled downtime, smaller venues and breaks to return home every month.
That all factored into the list of shows the band's management unveiled on Sept. 11, 1980. And while this leg was obviously too short to sate pent-up demand for live Led Zeppelin performances in North America, there was plenty of time to add more dates — or there would have been, if fate hadn't taken the next in a series of dark turns for the group.
On Sept. 24 — shortly after rehearsals for the tour started — Bonham passed out after hours of heavy drinking and was put to bed by a pair of Zeppelin's personal assistants. When the group's road manager attempted to rouse Bonham the following morning, he was unable to find a pulse and called for an ambulance, but it was too late. The drummer died at the age of 32, bringing Led Zeppelin to an almost immediate end.
After Bonham's death wiped the 1980 North American tour off the calendar, his surviving bandmates took several weeks to process his absence before deciding to put the group to rest; on Dec. 4, they shared their decision with the world in a press release. "We wish it to be known," they wrote, "that the loss of our dear friend and the deep respect we have for his family, together with the deep sense of undivided harmony felt by ourselves and our manager, have led us to decide that we could not continue as we were."
 
 
Led Zeppelin Albums Ranked Worst to Best
Why Led Zeppelin Won't Reunite Again
More From WSHK-WSAK 102.1 & 105.3 The Shark