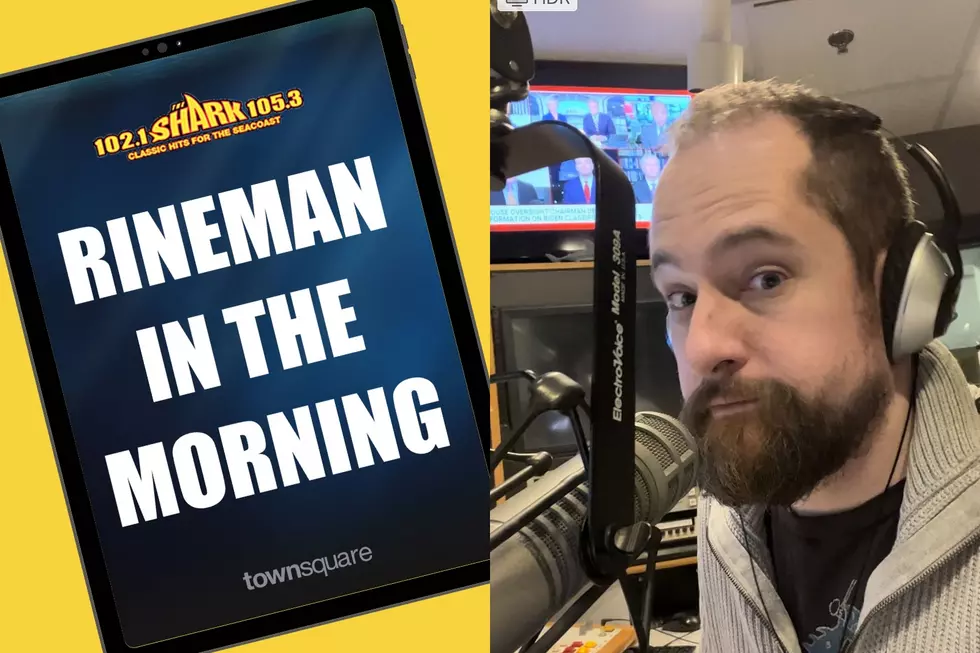 You Can Now Listen to 102.1 & 105.3 The Shark's 'Rineman in the Morning' on Demand Right Here
Townsquare Media
Listen up, Rinemaniacs!
Now you can listen in on 102.1 & 105.3 The Shark's morning show, "Rineman in the Morning," anytime you want. Each week, I will post my favorite moments from the show in case you missed them, want to hear them again, or share them with a friend. Or enemy...
"Rineman in the Morning On Demand" will feature the show's signature segments "News on the Nines," "What's Up with Megan", and "Sports in 10 Seconds."
The On-Demand episodes will also feature funny callers, celebrity interviews, and conversations with Seacoast residents making headlines, making a difference, or making us laugh by doing something funny.
"Rineman in the Morning" is hosted by me, Seacoast native and comedian Jon Rineman. Prior to joining The Shark, I spent nine years writing for "The Tonight Show" and "Late Night with Jimmy Fallon." I also have written for Andover native Jay Leno, New Hampshire native Seth Meyers, and New England-based WWE.
I welcomed Leno and Fallon as guests on my show. I've also chatted with Poison singer and reality star Bret Michaels, Beach Boys singer and cofounder Mike Love, comedian Paula Poundstone, musician and recording artist Sheila E., J. Geils Band singer Peter Wolf, Boston Bruins President Cam Neely, AEW Wrestler Billy Gunn, WWE Superstar Mia Yim, and Rock and Roll Hall of Famer Denny Laine.
I've even welcomed guests such as a turkey specialist with the Butterball hotline, a man who walked from Washington State to Maine, and a man who rode a unicycle from Maine to Florida.
And that's just the beginning.
Described as "late night comedy in the morning," the morning show show blends topical humor with all the classic hits played each day on The Shark.
Call into the show and give it a listen! You might just hear yourself.
Famous Comedians From New Hampshire
A look at famous, funny faces from the Granite State.
The Many Deep Thoughts of Patriots' Coach Bill Belichick
It's been said that Patriots' coach Bill Belichick is fairly "emotionless." But that's not true. He's actually a very deep guy, and if you look closely enough, you can actually see what he's thinking. Don't believe it? Just take a look at these photos and the thoughts going on behind them.
More From WSHK-WSAK 102.1 & 105.3 The Shark