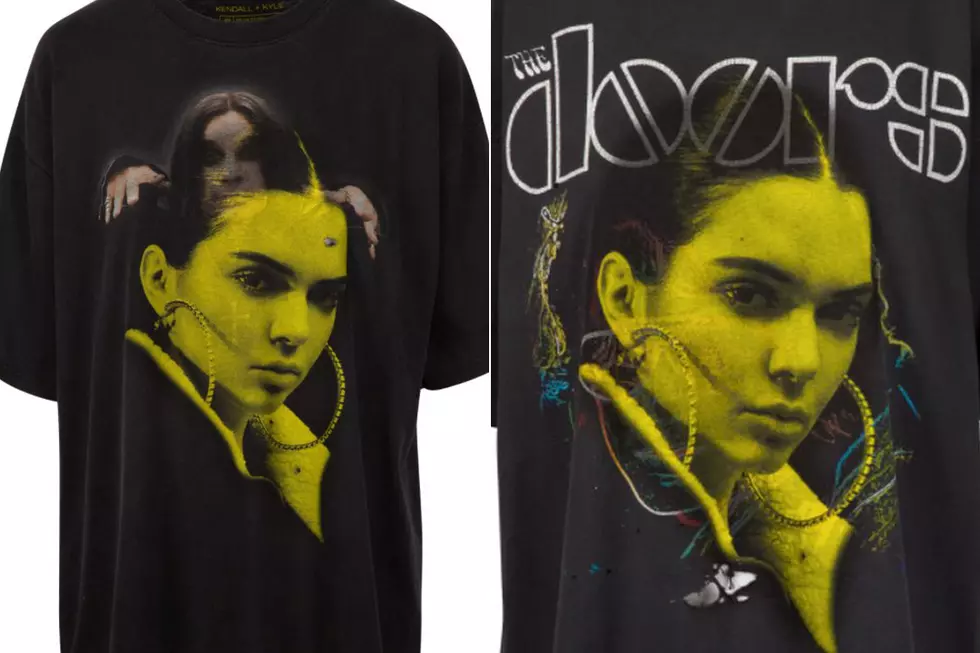 The Doors, Sharon Osbourne Stop Kylie and Kendall Jenner From Selling Unauthorized Rock-Themed T-Shirts
kendall-kylie.com
A line of apparel by Kylie and Kendall Jenner was taken down seemingly almost as soon as it was launched following a combination of bad publicity and threats of legal action. The t-shirts featured the reality television show stars' faces superimposed on top of classic rock and hip-hop acts like the Doors, Ozzy Osbourne, Led Zeppelin, Metallica, Pink Floyd, Tupac Shakur and Notorious B.I.G.
On Wednesday, the women began selling the shirts, for $125, at their website. This afternoon, Sharon Osbourne tweeted out a picture of the shirt featuring her husband and wrote, "Girls, you haven't earned the right to put your face with musical icons. Stick to what you know … lip gloss."
However, Jeff Jampol, who manages the Doors, and Voletta Wallace, the mother of Notorious B.I.G., sent cease-and-desist letters to the Jenners for unauthorized usage of their images. "This is a case of people who fashion themselves as celebrities who are famous for being well-known but don't actually do anything trying to utilize and steal and capitalize on the legacies of those who actually did do something and created amazing art and messages," Jampol told Rolling Stone. "It's ironic, at least, and criminal, at worst, both morally, ethically and artistically."
Saying that the Jenners did not attempt to get permission, Jampol added, "They're obviously attention-seeking missiles who crave celebrity and being well-known but don't actually do anything. It's the polar opposite of the artists that they're trampling all over. It's just spitting in the face and on top of art and message and soul and legacy."
Wallace posted a picture of the shirt featuring her son with a red "X" thorough it and "This product has no affiliation to the Notorious B.I.G. estate. The estate was never contacted about using The Likeness of Biggie." Underneath, she wrote, "I am not sure who told @kyliejenner and @kendalljenner that they had the right to do this. The disrespect of these girls to not even reach out to me or anyone connected to the estate baffles me. I have no idea why they feel they can exploit the deaths of 2pac and my Son Christopher to sell a t-shirt. This is disrespectful, disgusting, and exploitation at its worst!!!"
This afternoon, Kylie and Kendall tweeted out the following message. "These designs were not well thought out and we deeply apologize to anyone that has been upset and/or offended, especially to the families of the artists," they wrote. "We are huge fans of their music and it was not our intention to disrespect these cultural icons in anyway. The tee shirts have been pulled from retail and all images have been removed. We will use this as an opportunity to learn from these mistakes and again, we are very sorry."
But even though the shirts are no longer for sale, you can see what some of the others looked like through various angry tweets that NME found.
Ozzy Osbourne Albums Ranked Worst to Best
More From WSHK-WSAK 102.1 & 105.3 The Shark