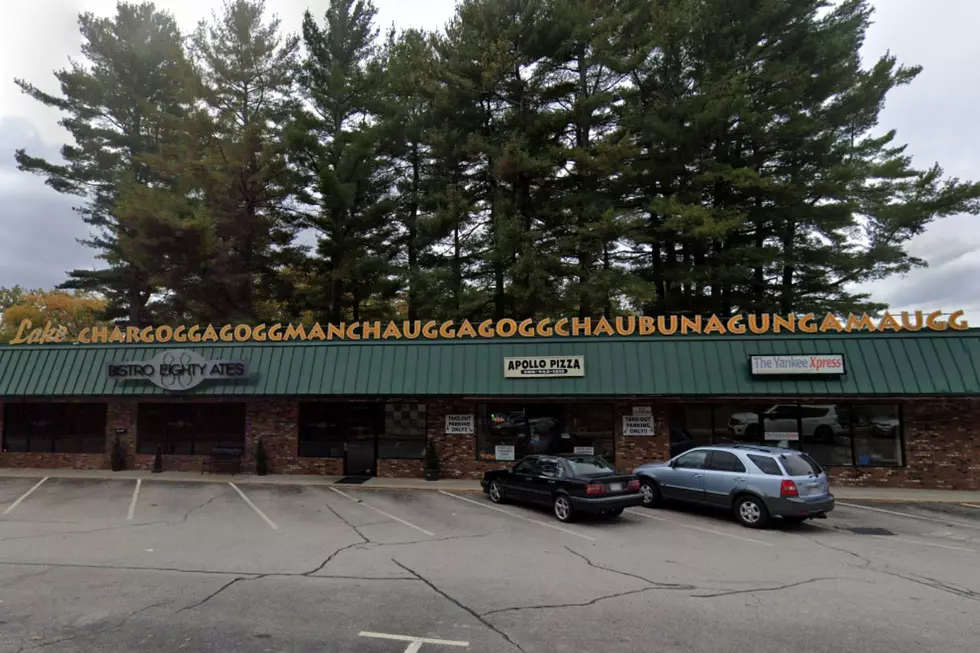 The Longest Lake Name in the World is in Massachusetts
Google Maps
Have you ever set something on your keyboard while you weren't paying attention and then once you looked at your screen saw a bunch of random letters strewn together?
I thought that's what happened when I stumbled upon the name of a lake here in New England.
The name of this lake is so long, in fact, that I couldn't fit it in the title of this article. The lake is, Lake Chargoggagoggmanchauggagoggchaubunagungamaugg. Or more commonly referred to as Webster Lake.
Lake Chargoggagoggmanchauggagoggchaubunagungamaugg is the longest lake name in the world and according to Atlas Obscura, is the third-longest single-word place name in the world.
So, what does it mean? Atlas Obscura dug deeper into the meaning and it's rooted in Loup which is an Algonquian language pre-dating English settlers. "Chaubunagungamaugg" means "fishing place at the boundary." The longer word of "Chargoggagoggmanchauggagoggchaubunagungamaugg" came after the English settlers and adds that the lake is a neutral space for all.
Boston.com notes that it was the Nipmuck tribe that originally settled in the area and there are many legends surrounding who utilized the lake for fishing.
Lake Chargoggagoggmanchauggagoggchaubunagungamaugg is to this day a tourist destination for many. There are a ton of opportunities on the lake for family fun like tubing and jet skiing in the summer. During the winter they host an ice-out contest and polar plunge!
Not sure if they have a gift shop but best of luck finding a t-shirt that says, "I went to Lake Chargoggagoggmanchauggagoggchaubunagungamaugg and all I got was this stupid t-shirt."
Plan your visit and learn about places to eat, do, and stay around Lake Chargoggagoggmanchauggagoggchaubunagungamaugg here.
10 Maine Towns Out-of-Staters Can't Pronounce Correctly
Eat for a Cause: Warwick Restaurant Keeping the Spirit Alive of Teens Taken Too Soon
Gel's Kitchen wanted to honor four Rhode Island teens that lost their lives by curating a special menu that gives back in a big way. Meet the teens and check out their special meal at Gel's that will keep their legacy alive.
More From WSHK-WSAK 102.1 & 105.3 The Shark