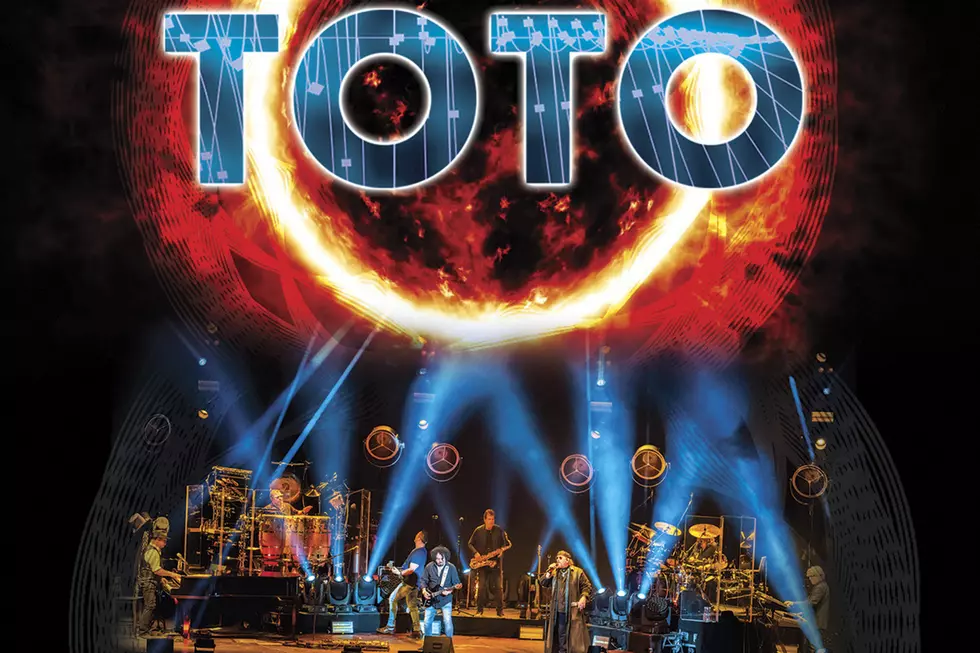 Toto Announce '40 Tours Around the Sun' Live Album and DVD
Eagle Rock
Toto have announced a new live album and concert film. Titled 40 Tours Around the Sun, the set captures the classic rockers performing in front of more than 18,000 fans.
The concert was recorded on March 17, 2018, during the band's stop at the Ziggo Dome in Amsterdam. The performance featured many of the band's best-known tracks -- including "Rosanna," "Hold the Line" and the omnipresent "Africa" -- along with deeper album cuts from throughout its career.
You can see a trailer below.
Among the bonus material, 40 Tours Around the Sun also promises a "storytellers segment in which the band's four key figures, David Paich, Steve Lukather, Steve Porcaro and Joseph Williams, plunder their back catalog, describe the background behind their first demo and reveal the genesis of Michael Jackson's 'Human Nature.'" The latter track, made famous by the King of Pop, was penned by Porcaro.
40 Tours Around the Sun arrives on Sept. 13 on digital formats, with two-CD and three-LP sets releasing a week later. Those wanting the DVD or Blu-Ray will have to wait until Nov. 15. You can see the track listing for the album below.
The release is just the latest event in Toto's modern renaissance. The band's popularity has surged in recent years thanks to new fans discovering their body of work. Much of this can be attributed to Weezer's cover of "Africa," which became one of the biggest songs of 2018.
Earlier this year, Toto announced the final portion of their two-year 40 Trips Around the Sun tour. The trek began in 2017 and celebrates the band's 40th anniversary.
Toto, '40 Tours Around the Sun' Track Listing
Disc 1
1. "Intro"
2. "Alone"
3. "Hold the Line"
4. "Lovers in the Night"
5. "Spanish Sea"
6. "I Will Remember"
7. "English Eyes"
8. "Jake to the Bone"
9. "Lea"
10. "Rosanna"
11. "Miss Sun"
12. "Georgy Porgy"
13. "Human Nature"
14. "Hollyanna"
15. "No Love"
Disc 2
1. "Mushanga"
2. "Stop Loving You"
3. "Girl Goodbye"
4. "Angela"
5. "Lion"
6. "Dune (Desert Theme"
7. "While My Guitar Gently Weeps"
8. "Stranger in Town"
9. "Make Believe"
10. "Africa"
11. "The Road Goes On"
Toto Albums Ranked 
More From WSHK-WSAK 102.1 & 105.3 The Shark