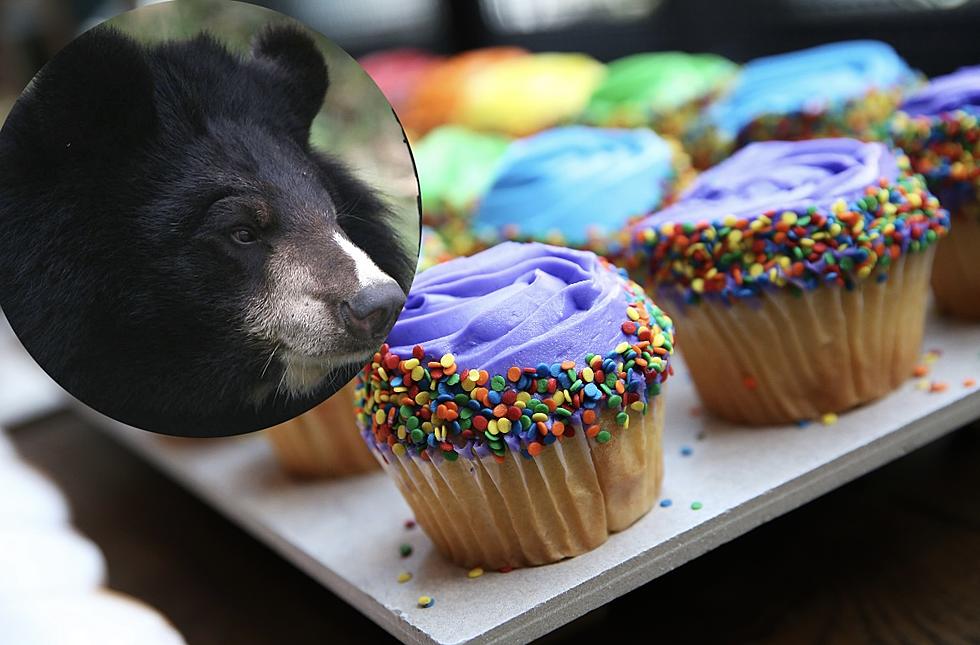 WATCH: Black Bear Invades New England Bakery and Devours 60 Cupcakes
Photo Credits: Getty Images
Look. Who among us hasn't raced down the hall when we heard there were free cupcakes?
This naughty impulse plagues not just humans, but bears as well. At least, that's what one New England bakery learned when a black bear let itself in and seemingly said: "I've earned these."
After surprising sightings in Exeter, New Hampshire (caused in part by a certain decoration New Englanders are being urged to abandon), Avon, Connecticut, is the latest town in the region to be visited by the creature that means no harm, but can cause plenty.
Employees of the bakery Taste by Spellbound were loading cupcakes into a delivery van when they were greeted by the bear – one of 1,000 to 1,200 in the state, according to the Associated Press (I wonder if this one's related to the bear a family in Connecticut adopted this past winter).
Luckily, no one was hurt, and only the cupcakes were devoured, as captured in this surveillance video.
Several employees took turns trying to scare the bear, which resulted in it charging at them. This would come as no surprise to New Hampshire Fish and Game bear expert Andrew Timmins.
"Just make the bear aware of you," said Timmins in a recent interview. "Raise your hands and just kind of say, 'Hey, bear. I'm here bear.' You start yelling and screaming at the bear and escalating it, just letting the bear know that you're there, maintaining eye contact with the bear – that tells the bear that you're not submissive, but you're also not a threat."
Timmins says that people can typically scare bears away just by making some normal, non-aggressive sounds and maintaining a calm tone of voice (and I'd guess that maybe letting it have some cupcakes can't hurt).
To hear my full interview on bear safety with Andrew Timmins, CLICK HERE TO LISTEN. (Andrew's interview begins at 34:30.)
Here Are the 14 Times Bigfoot Has Been Reported in Maine
Did You Know These 30 Animals Are on New Hampshire's Endangered Species List?
More From WSHK-WSAK 102.1 & 105.3 The Shark