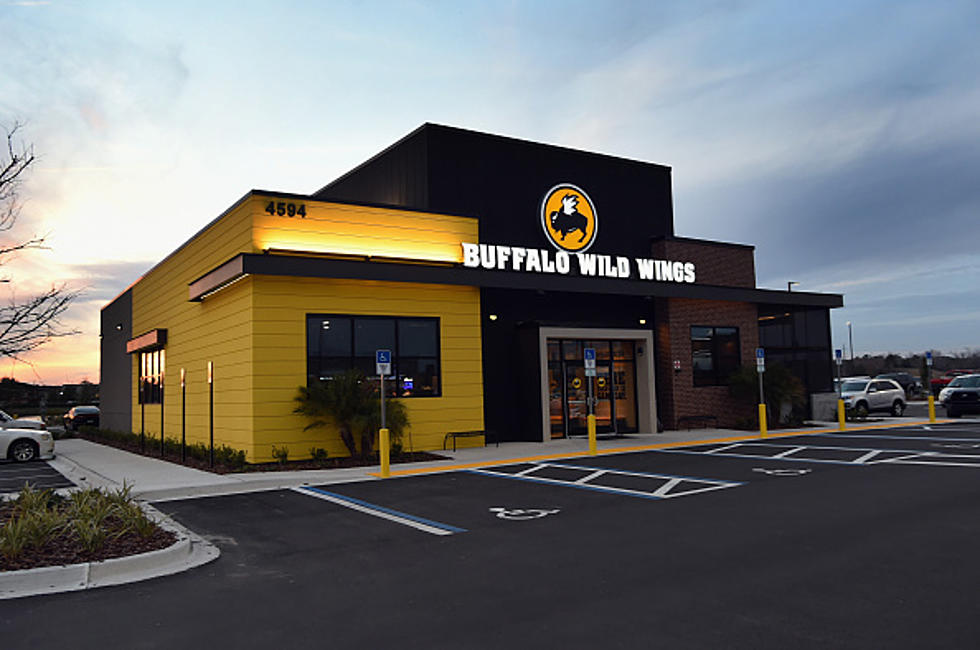 When is the New Buffalo Wild Wings Opening in Portsmouth, New Hampshire?
Getty Images for Buffalo Wild Wi
My husband Steven and I have always been big Buffalo Wild Wings enthusiasts! There was one where we went to school in Amherst, Massachusetts, and we were proud regulars.
Is there anything more delicious than their Asian Zing wings? I'll answer my own question: NO! No there is not!
And who else would be brave enough to cover their wings in spicy, crushed up Doritos?  NOBODY! That's who!
And don't ever underestimate the power of their loaded tots! As Marie Kondo would say, they spark joy:
Last November, Steven had the day off, and we wanted to enjoy the sweet taste of freedom in the form of wings.
We headed to our local BWW location which we thought was in the Mall at Fox Run in Newington, New Hampshire, only to find this sign on the door. *GASP*
This news came as quite the shock to us. As the sign states, the new Buffalo Wild Wings will be located in West End Yards across the street from Holloway Buick GMC on Route 1 Bypass in Portsmouth. It was supposed to open in the spring of 2022 but, as we know, that has come and gone! 2023 will be here before we know it!
Back in September, someone asked in the Portsmouth, NH, Facebook group if anyone knew what the holdup is. Of course, in typical Facebook fashion, lots of comments came pouring in. Few of them were helpful or had anything to do with the question.
Here were the most helpful comments! Jody said:
"I actually asked the managers at West End Yards a few weeks ago and one of them said the date had been pushed back to October due to delays in kitchen equipment delivery."
Sean said:
"As an electrician working on the new building, last I knew some of the electrical equipment was backordered like crazy"
Stephanie said:
"Yes, I have a very reliable source saying that construction should be starting in about two months! Can't wait! 

"
And finally this comment from Mary was not helpful but entertaining nonetheless:
"Idk seems like they're kinda wingin it."
Touché! In closing, it seems like we can attribute the delay to three dreaded words: Supply Chain Issues. If construction isn't starting for another two months, then chances are it won't be open for business until early 2023 (at the earliest).
We will keep you posted as we learn more!
In the meantime, there are plenty of places to choose from for chicken tenders in the Granite state. Let's peep some of our favorites:
These Are the Best Places to Get Chicken Tenders in New Hampshire
Yeah, we know a thing or two about chicken tenders in New Hampshire! They were invented in our fine state after all! Here are some the best places to get this delicious crowd pleasing comfort food in the Granite State.
12 of the Best Breweries in NH Decided by Granite Staters
More From WSHK-WSAK 102.1 & 105.3 The Shark