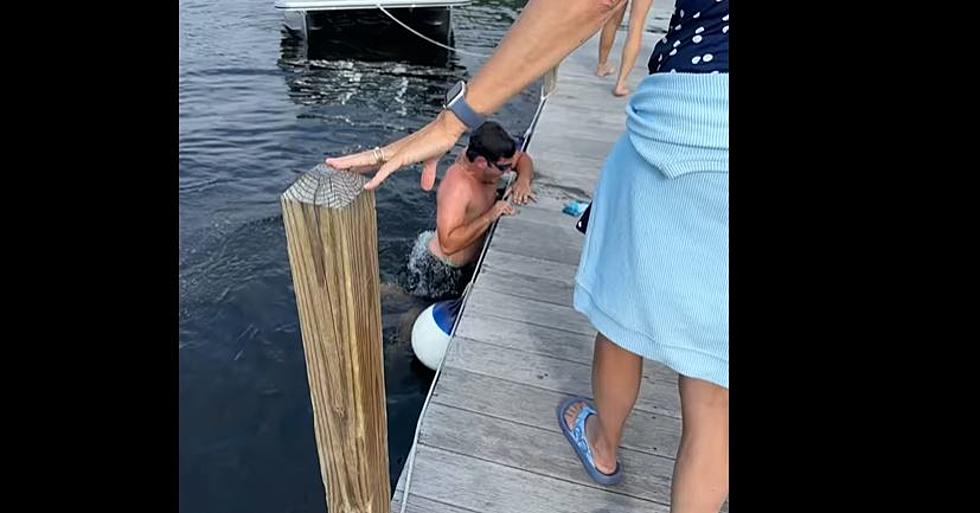 Dude Dives Into Lake Sunapee in NH to Save Stranger's iPhone That Dropped
Sunapee Police Dept Facebook
The best part? The phone still worked!
Let's set the stage: Dianne Bonfiglio hears the terrifying *plonk* and accidentally drops her cell phone into Lake Sunapee. Lucky for her, a pontoon boat of young people was close by. Simon (dubbed "Saint Simon") volunteered to dive into 15' of water to find the cell phone. It was a collective effort, as Rhonda at Harborside Trading donated a pair of swim goggles. The Sunapee Police Department put the awesome moment on Facebook.
Simon earned his nickname of "Saint Simon" because, on his first dive, he was able to grab her phone! There was a crowd cheering when he found the phone. But the crowd really went nuts when Dianne realized that the phone still worked! It was a super busy day in the Harbor, and the police appreciated something nice happening.
I'd love to think that this is VERY rare, but it might just happen more than we think. I know a 15-year-old boy who accidentally jumped into a lake in Maine with his iPhone in his pocket. But it was HOURS later that he realized that it happened. It's a black phone on the bottom of the lake. 24 hours later, neighbor kids swimming found it! It wasn't dead, but on and receiving messages! We didn't do anything except stick it in a big ol' pile of rice!
We waited patiently and didn't do anything to the drowned phone. Two days after finding it alive at the bottom of the lake, it was dead as dead gets. But to find it was a mini-miracle. Have you ever dropped your phone in a lake and found it?
LOOK: Was 2023 The Hottest Summer On Record?
Temperatures soared in 2023 as brutal heat set new records across the United States this summer.
More From WSHK-WSAK 102.1 & 105.3 The Shark