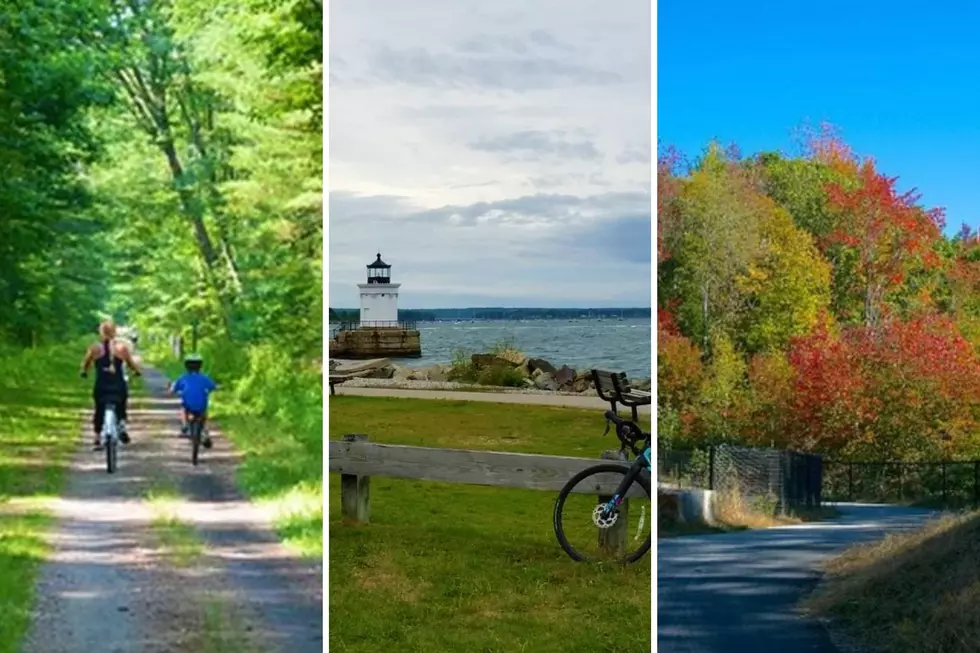 Hall of Fame for Maine: Premiere Trail Inducted Into the United States Rail-Trail of Greatness
Eastern Trail Alliance via Instagram
Congratulations!  A celebration is in order after the nation's largest Rails-to-Trails organization welcomes one of the best trails in New England to the Rails-to-Trails Conservancy, or RTC Hall of Fame.
It's about time we see Maine's Eastern Trail take this prestigious honor.
In case you're not super familiar with the Eastern Trail, it runs through the very charming South Portland neighborhoods and scenic coastal landscape, including a famous lighthouse called Bug Light, the more than 3,000-acre Scarborough Marsh, and a 7-mile stretch of sandy beach.
According to the RTC, the Eastern Trail is a powerful example of the outdoor recreation economy in Maine, and an essential community asset in the cities and towns it serves. The trail delivers nearly $45 million in annual economic benefits, and 364 jobs throughout Maine.
Who knew green space for recreational activity played such a huge role?  I truly never really thought about it, to be honest, as most of us see these trails as just a fantastic outdoor outlet and space of beauty to take advantage of.
The New England Rail-Trail Network is adding sixteen additional miles to the Eastern Trail. 11 of those miles were supported by $700,000 in federal funding received in the spring of 2022.
Here's more on the exciting expansion, and where the trails will go with the Eastern Trail.
Once the 16 miles of trail under construction are completed, the trail is projected to bring an additional $5.9 million in earnings and sales for Maine.
What's crazy is that the original rail route was built by the Eastern Railroad in the 1840s to connect Boston to Portland. You can learn more about the Eastern Trail right here.
The Hall of Fame inductee is selected during a public vote based on outstanding scenic value, use, amenities, historical significance, and community value.
As a matter of fact, RTC, the Eastern Trail Alliance, and the East Coast Greenway inducted Maine's Eastern Trail into the Rail-Trail Hall of Fame, officially making it part of the 2022 class.
Most common words used to describe UFOs from reported sightings
UFOs (unidentified flying objects) have been reported throughout history and people have used similar words to describe them throughout.
Stacker
culled the National UFO Reporting Center's top list of UFO descriptors and famous examples of each UFO in history.
Leading Theories About D.B. Cooper and 30 other unsolved mysteries
Thanks to the American fascination with confounding unsolved cases, mystery is among the most popular genres of books, movies, and television. From heists and capers to murders and robberies, the world's greatest unsolved mysteries spark media frenzies that grab headlines around the globe. Some cases compel so much public intrigue that the facts and theories surrounding them become the basis of books, movies, plays, and documentaries decades or even centuries after the cases go cold.
More From WSHK-WSAK 102.1 & 105.3 The Shark