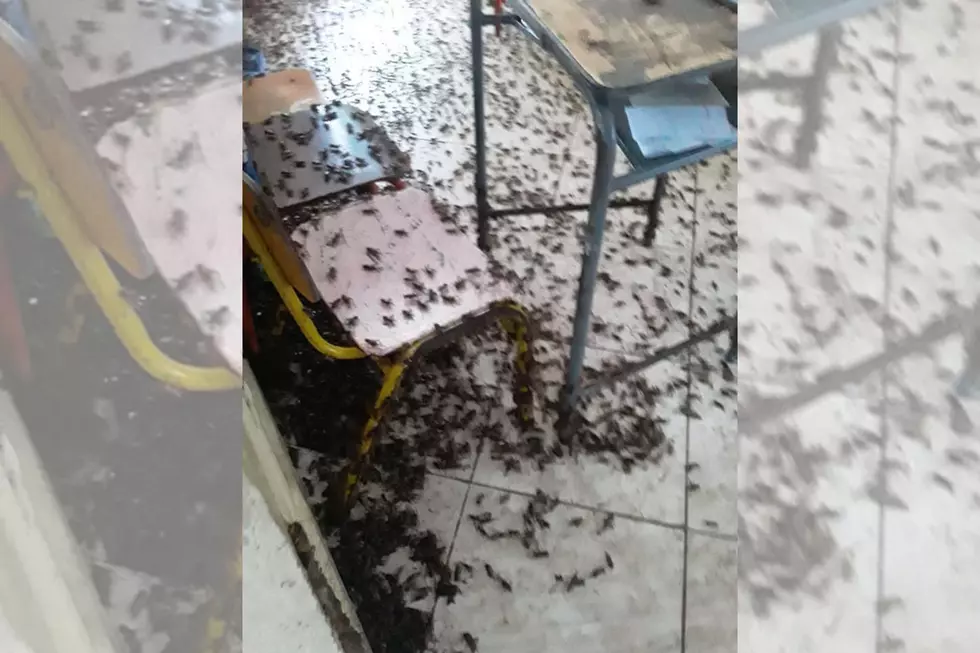 Massachusetts Man Selling 'Free Loose Crickets' After Causing Infestation
Chad Thasseus via Facebook Marketplace
If a 'big oof' was a Facebook Marketplace ad, this would be it.
A man in Massachusetts is giving away an innumerable amount of live crickets after accidentally causing an infestation in his own home.
Chad Thasseus listed his hoard of crickets last week on Facebook Marketplace, writing that he had bought a jar full of the critters for his pet lizard and accidentally knocked over the jar. Instead of calling an exterminator, as most people probably would have, Thasseus is actually hoping to rehome the loose crickets, potentially to another reptile owner nearby.
"My loss is your gain," Thasseus wrote. "They are now infesting my kitchen and you can feel free to take as many as you'd like, or even all of them!"
Completely rational, right?
Just thinking of the amount of chirping a single cricket can do outside your window at night, it's easy to imagine how incredibly loud Thasseus' kitchen must be. Someone needs to help this man out...immediately 😂
If you're in need of some free, catch-your-own reptile bait or just want to check out this wild post for yourself, the crickets are currently listed on Facebook Marketplace in Chicopee, Massachusetts.
It's not uncommon to find some pretty neat and sometimes flat-out odd things going for free on sites like Facebook Marketplace and Craigslist. We've seen everything from free pools and hot tubs to a used tanning bed, and that's just the tip of the iceberg.
Find something interesting for sale on the SouthCoast? Let us know inside our station app!
How to Come Away With the Best Finds, Deals at Yard Sales
Are you looking forward to hunting through sale after sale this year? Yard sale season is back, and I've got some tips to help you find the items you're looking for while having a blast.
Seekonk Amusement Rides and Games Up for Auction
Fantasyland in Seekonk seems to be undergoing some serious renovations as it has listed several of its nostalgic rides and games up for auction.
Seven Swankiest SouthCoast Airbnb Listings
If you're looking for a great "staycation," look no further than staying in some of these amazing SouthCoast Airbnb spots. Stay in New Bedford, Fairhaven, Westport, Marion, Bourne or Wareham but still feel like you're a world away.
More From WSHK-WSAK 102.1 & 105.3 The Shark