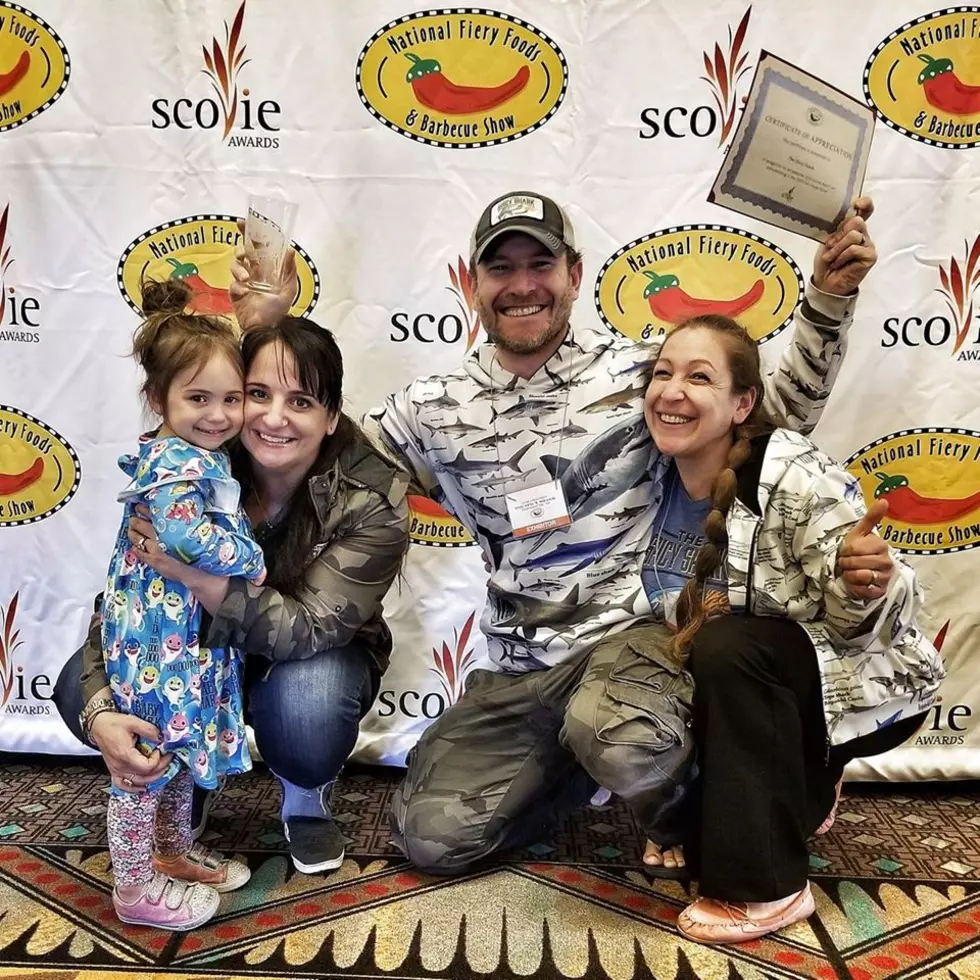 Portsmouth Man Building Shark-Inspired Hot Sauce Empire
Courtesy: Gabe DiSaverio
You're gonna need a bigger heat tolerance.
For Gabe DiSaverio, founder and owner of The Spicy Shark in Portsmouth, it all started with a love for sharks, a passion that ran so deep DiSaverio actually transformed a 1975 Chevrolet Blazer into a replica of Chief Brody's iconic ride in "Jaws."
Now, with 17 years of service in the beer industry and a lifelong passion for marine life and shark conservation, DiSaverio has taken his talents toward crafting a hot sauce empire.
DiSaverio, who was born in New Jersey but has been a New Englander since 1997, is on a mission to dominate the hot sauce industry. Two years after The Spicy Shark was born, he's made significant progress.
Enter your number to get our free mobile app
At the 2020 Scovie Awards, which DiSaverio calls the "Oscars of hot sauce," The Spicy Shark came home with seven trophies, including a "Best in Show" award for their hot maple syrup. DiSaverio only had one new product to submit for the 2021 awards, and he got first place for that one, too.
"It's been awesome," DiSaverio told Seacoast Current about his company's accolades. "It's exciting and a big deal for us. Right here in little, old Portsmouth, New Hampshire. We're trying to make New England a spicy region because it's definitely not."
His latest creation is part of a new series that branches out from The Spicy Shark's "5-fin" heat scale, with "1" being mild ("Nurse Shark") and "5" being the hottest ("Megalodon"). This new creation is the first installment of his "6-fin series," which is, like, stupid hot.
"For someone like me or the chili-head community," DiSaverio said, "I knew I could go hotter. To make something that hot and still make it really flavorful, it's very challenging. It took a lot to make the 'Megalodon' that way, but it still wasn't hot enough for me, and if this is my company there has to be something hot enough for me."
DiSaverio said his team was in production on this super-hot concoction for about six months, using a love for Creole food and cajun flavor as starting points. He started with a vegan roux, added cajun spices, and included four hot peppers (Habanero, Scorpion, Carolina Reaper and 7 Pot Primo).
Instantly, DiSaverio knew he had a winner; he just needed the appropriate shark to use as a namesake.
"I have a 'Megalodon' and that's the biggest shark that's ever existed," DiSaverio said. "So what am I going to do? I said, 'Well, I'm going to come up with creatures that I create in my own brain.' So it's half hammerhead shark and half alligator, the 'Hammah Gatah.' And I spelled it like a good New Englander would spell it.
"Everyone mispronounces it when they see it, so I sort of have to explain it a lot. But it was my way of infusing a little bit of New England in there."
With another award in the books, thanks to the 'Hammah Gatah,' The Spicy Shark has only received more exposure. That attention is not only good for business, DiSaverio says, but good for his company's mission of giving back and supporting numerous shark conservation efforts.
"I got really into shark conservation," DiSaverio said, "and the reason there is 'Shark' in our name is because we donate to organizations who align with our goal which is to end the shark-fin trade in the United States."
Still, for all that The Spicy Shark has accomplished in just two years' time, DiSaverio is dreaming of more. Part of his plan is to open a retail space and tasting room, following a recipe from many successful craft breweries around the Seacoast and beyond. The Spicy Shark products are currently only available at select restaurants, food stores and via their own website.
"That's not just a dream but a goal," DiSaverio said of opening a tasting room. "I hope to do that somewhere on the Seacoast within the next three years. We've done a lot of events with local breweries. The hot sauce industry is very much like what the beer industry was like 10 years ago. There's a ton of craft hot sauces out there and they're just starting to grow."
Best Subs In Dover
More From WSHK-WSAK 102.1 & 105.3 The Shark