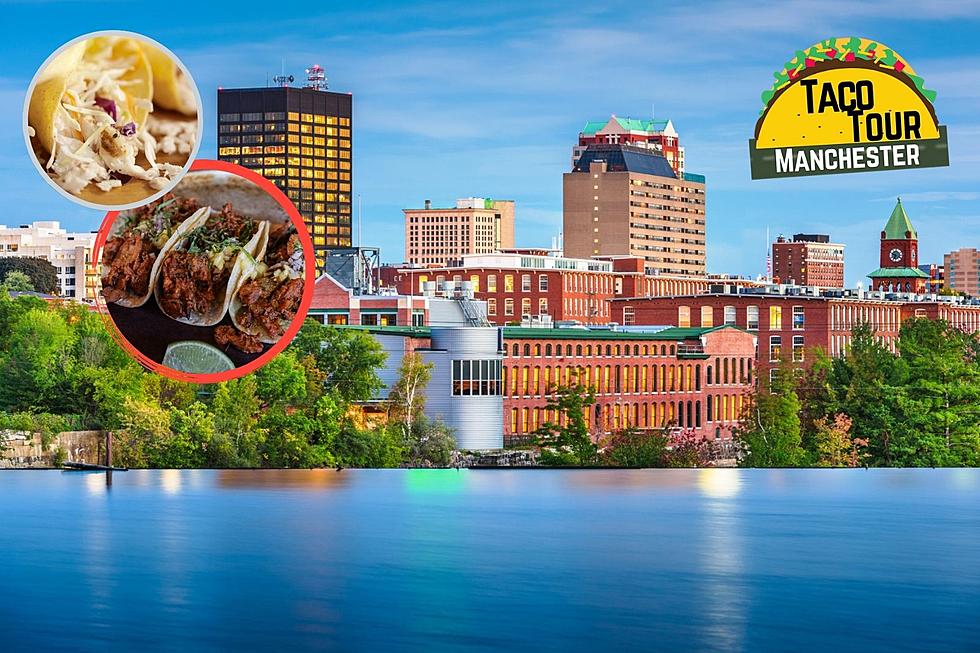 FREE Festival in New Hampshire Returns on May 5 With Over 60 Restaurants
Canva
This is a taco lover's dream festival, and it's back on Thursday, May 5.  We get to take our taco-eating skills to an entirely new level and love every minute of it, and all for free.
For the first time since May 2019, Taco Tour Manchester will shut down Elm Street on Thursday evening, May 5, so we can eat the night away.
Let the salivating begin, as I'm sure it has for the 30,000 people expected to stroll up and down Elm Street in downtown Manchester eating as many tacos as they can, according to the Manchester Chamber.
Taco Tour Manchester is that one night each year where downtown Manchester restaurants and venues ALL serve tacos.  How scrumptious is that?  Save up that appetite so you can taste test like crazy as you amble from restaurant to restaurant lining Elm Street, all offering up incredible, mouthwatering tacos.
This 4-hour festival kicks off at 4p on Thursday, May 5.
Since 2011, this May tradition in the Queen City has grown annually into one of the biggest and best festivals in New Hampshire.
The creators of this massively delicious festival, The Greater Manchester Chamber, in collaboration with the Manchester Economic Development, are beyond thrilled to welcome people:
This event is a favorite of thousands throughout the Greater Manchester region and beyond and we are thrilled that our community will see this amazing event come back to life on May 5th, 2022.  The Taco Tour is a wonderful downtown experience that highlights the creativity, food and personalities that make our restaurants so incredible. We are proud to be offering such a fun community event that boosts economic energy and vitality in Manchester.
Here is a list of the restaurants participating!  YUM, how many tacos can you eat in 4 hours?
Current list of Participating Taco Tour Manchester Restaurants
603 Bar & Grill
815 Cocktails & Provisions
900 Degrees
A&E Coffee & Tea
Alley Cat Pizzeria
Alltown Fresh Manchester
Angel City Music Hall
B's Tacos
Ben and Jerry's
Bird Food Baking
bluAqua Restrobar
Boards and Brews
Bonfire Country Club
Buba Noodle Bar
Caesario's Pizza and Subs
Café at The Bookery
Café la Reine
Consuelo's Taqueria
Dancing Lion Chocolate
Dandido Hot Sauce
DeadProof Pizza Co
Diz's Cafe
Doogie's Bar and Grill
El Rincon
Electric Avenue Arcade
Firefly Manchester
New Hampshire Fisher Cats (Multiple Vendors)
Flight Center, MHT
Gaucho's Churrascaria
Granite State Candy Shoppe
Great NH Restaurants
Gyro Spot
Hooked + Ignite
Industry East
Kisaki
MFD Central Station
Mint Bistro
Osaka
Patz Deli
Pho Golden Bowl
Piccola Italia Ristorante
Presto Pasta
Prime Time Grilled Cheese
Restoration Cafe
Shopper's Pub
Stark Brewing Co.
Strange Brew Tavern
Sub Zero Nitrogen Ice Cream
Taj India
Thai Food Connection
The Birch on Elm
The Current Kitchen and Bar @ the Doubletree by Hilton Manchester Downtown
The Currier Museum of Art
The Farm Bar and Grille
The Goat
The HopKnot
The Patio
The Pint Publik House
The Smoothie Bus
Thirsty Moose
Thousand Crane
Tidewater Catering
To Share Brewing Company & The Sleazy Vegan
USA Chicken & Biscuit
Wild Orchid Bakery
XO Bistro
(Retail) AR Workshop
(Retail) Studio 550
(Retail) Bookery Manchester
Tour Time: Boston's Own Mark Wahlberg Put His Nearly $90 Million Manse on the Market in Beverly Hills
'Saturday Night Live' Copycats
Many have imitated the late-night staple's formula but none has come close to matching its success.
More From WSHK-WSAK 102.1 & 105.3 The Shark