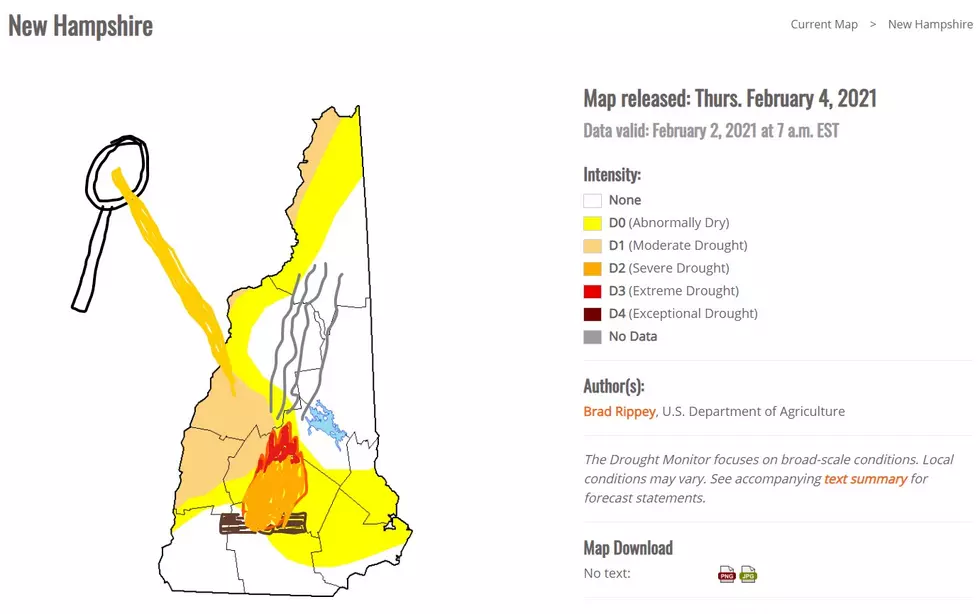 NH Drought Map Confusion and Frustration
droughtmonitor.unl.edu
As The Shark's unofficial NH Drought correspondent, I must admit, I'm completely confused and frustrated with the latest update on our never ending drought.
Not two days ago, virtually all of New Hampshire was rocked by a winter storm that blanketed some areas of The Granite State with up to 16 inches of snow.
For those of you self-acclaimed NH drought experts, you know that the precious data gets tabulated up until 7am on Tuesday. The lion's share of the frozen precipitation from this storm had fallen by then.
Today's update should have shown some impact from this major meteorological event!
Where is the change? What is happening?
Could it be possible that frozen water does not qualify as inches of liquid precipitation until is thaws? Honestly, this is the first drought that I remember stretching into the winter months so, it's entirely possible this is the case.
As you can see from my crude artwork, I have some unorthodox ideas for methods of turning the snow into the much needed water for these drought inflicted areas.
A gigantic bonfire that I've located in the central west part of the state. I apologize for it's one dimensional appearance but drawing the other log that is supposed to run north and south was very difficult to represent artistically speaking.
Also, the towering magnifying glass that is hovering over where Vermont is supposed to be? That was a separate idea for a more precise way to melt the snow of Cheshire and Sullivan County.
The resulting heat ray is completely unrelated to the gigantic bonfire.
Hopefully, by next Thursday some of the snow will melt naturally and I will finally be free of this drought anxiety!
5 Ways to Prep for New England Winters Now So You're Not Stuck Later
See the Must-Drive Roads in Every State
More From WSHK-WSAK 102.1 & 105.3 The Shark