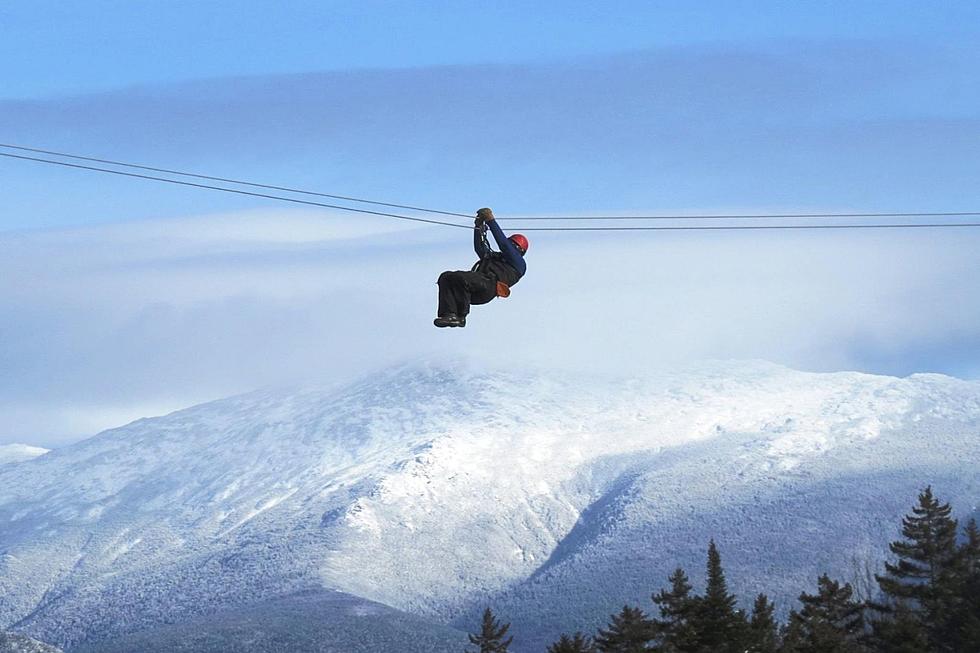 Did You Know You Can Go Winter Zip-Lining in New Hampshire?
Bretton Woods via Facebook
Did you know there is winter zip-lining at Bretton Woods ski resort in New Hampshire? Who knew? I guess, now we all do.
Normally, when you think of zip-lining, you get a heart-pounding, WOO HOO moment that screams extreme summer vacation idea. Often it's a bucket list check-off item, soaring with the birds along the treetops.
But now, Mount Washington Resort Bretton Woods has an entire 3-hour tour specifically for you to enjoy this thrilling adventure year-round. Yes! Even in the dead of winter.
We know the slopes of Bretton Woods fill with skiers each winter season, and often the entire point of vacationing Bretton Woods is to immerse yourself into one of our favorite New England sports, skiing and riding.
How exciting to find, yet, another spectacular reason to forgo hitting the slopes for a day, especially if you love winter resort vacations sans skis and snowboards, and make your friends and family jealous on an adventure amongst the ancient hemlock trees of the White Mountains.
Here's the low-down:
From high-up you'll spend around 3 hours in the heart of the White Mountains, with sweeping views of Mount Washington and the Presidential Range, jumping (no, not literally) from zip line to zip line, using sky bridges, rappels, and platforms, all while enjoying an intimate tour of the area.
That means you'll take on nine zip lines, ranging from 120 - 830 feet in length and up to 165 feet off the forest floor, all while hitting speeds up to 30 mph. Pretty quick, huh?
And, some of the platforms are up to 70 feet high. Insane.
Obviously being winter in New Hampshire, you'll need to wear warm layers, winter boots, and goggles. The Bretton Woods Canopy Tour, though, will provide Yaktrax and zip line gloves.
So what do you think? Are you ready?
Maybe you'll be checking off winter zip-lining off your bucket list real soon.
Find out more about it at the Bretton Woods website.
LOOK: Here are the best small towns to live in across America
The 100 Best Places to Live on the East Coast