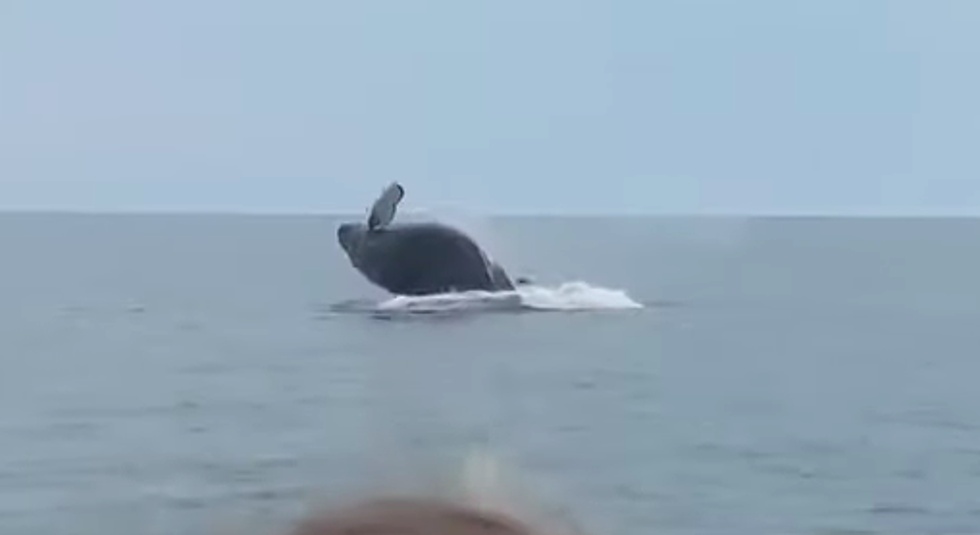 Some Joy off Manchester-by-the-Sea's Coast: Whale Put on a Show
WCVB TV YOUTUBE
There is a lot to fear and respect in the ocean. Recently there has been a lot of focus on the dangers of the ocean, from shark attacks to bacteria in the water to rip currents.
But a group of friends taking a boat ride off the coast of Singing Beach in Manchester-by-the-Sea reminded us of the beauty and wonder that nature can provide.
Four friends from Massachusetts took a boat ride off the coast of Singing Beach and were shocked to spot a humpback whale just a quarter-mile offshore, according to reporting by WMUR.com. Unusual that a whale of that size would be in just 30 feet of water.
The whale followed the boat for about a half an hour and then, in dramatic fashion, the whale breached out of the water, the news station reported.
Lindsay Pollard tells WMUR.com "It's like unbridled joy. I felt like a kid, like back when we were all young and it's, like just something so exciting you can't control yourself. It was amazing."
The whale breached the water only about 50 feet from the boat, according to the news station.
Tyson Goodridge was able to capture it all on video.
What an amazing experience these friends had.  And a reminder that nature can still inspire us with wonder.  Despite all the bad, we are seeing around us and these troubling times, we can still be caught up in moments of awe.
This was just the feel-good story I needed to see today, and it lifted my spirits.
Check Out These Cool Drone Photos of Massachusetts Seacoast
More From WSHK-WSAK 102.1 & 105.3 The Shark