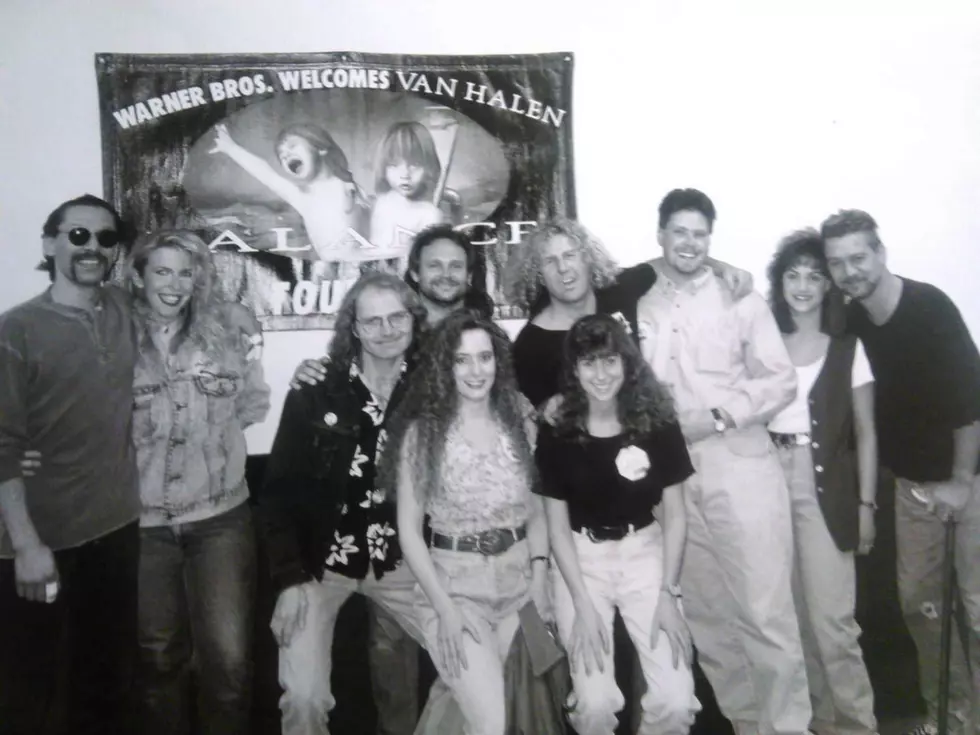 Sarah's Tribute To Eddie Van Halen And Favorite VH Album
Sarah Sullivan
I found out that Eddie Van Halen died yesterday at about 3:45pm when my phone started blowin' up with people texting me.  DING!  DING!  DING!  What the heck was going on?  All of them said the same thing.  Ug.  He had died at 65 years old of cancer.  I was on my way home, but I turned my car around and headed back in to the Shark studio.  Working on tributes to Edward Van Halen is the LEAST I could do for a guy who has given me such comfort at a time when I needed it most.
Van Halen's first album came out in 1978.  I was a young girl at the time who lost her Father a couple years past and all I did was listen to music.   I remember dropping the needle on the record and hearing the first cut, "Runnin' With the Devil" and I was hooked from the first listen.  The look of the band was also hypnotic - EVH with his flying V and DLR with his acrobatics, hell -  just the album cover itself emitted energy!
I've heard that many people consider Van Halen II as their best with hits like "Dance the Night Away" and "Beautiful Girls."  Album number 3, Women and Children First made my head spin too, right off the bat with the first cut, "And the Cradle Will Rock."  Fair Warning was next with hits like "So This is Love," and "Unchained."
Do yourself a favor if you haven't listened to this album lately, go back and do it. There are so many gems on this album. I know I'll probably get some flack for this, but I think it's Eddie Van Halen's best album. (Cathedral, Hang 'Em High, Little Guitars) Between him and Diamond Dave at his absolute prime? Just fuggeddaboutit. I remember thinking that THIS is what music should be. You can hear so many genres in this album besides rock - classical, big band, metal, swing, it's just a classic and one of my all time favorites.
I am so sad for his son, Wolfgang Van Halen and Wolfie's Mom, Valerie Bertinelli.  I am sad for all of us who loved to listen to the sound of his guitar.  As my husband David said, "He changed the way people play the instrument forever."  I am so happy and grateful, however, that he and I lived on the planet at the same time and that I get to listen to his musical legacy any time I want.
With the passing of Eddie Van Halen, EVH "stuff" for sale on the internet is going to go fast.  I just purchased a couple Christmas gifts for my husband and maybe something for me too in the Van Halen online store.  Click here for more information on what you might like to buy.
Thank you, Eddie.  That 9 year old crankin' your albums in her Mom's basement in Hollis, NH got through some heavy stuff because of Van Halen's Classic vinyl.  The "slightly aged" older broad is grateful too.
ALSO: PEEK INSIDE JON BON JOVI'S NEW $43 MILLION PALM BEACH MANSION
More From WSHK-WSAK 102.1 & 105.3 The Shark